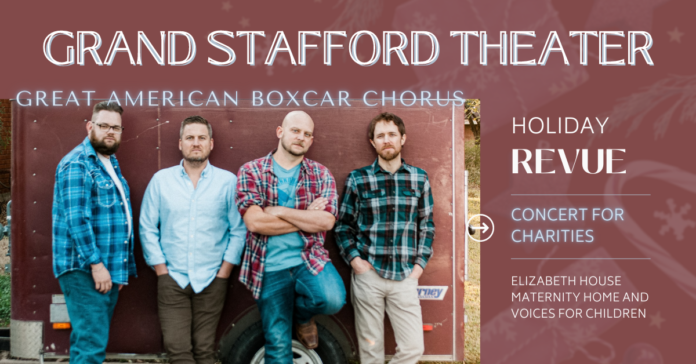 This Saturday, tap into that holiday happiness and giving attitude, and have fun while you're at it. On December 18 at 8 p.m., Grand Stafford Theater presents Great American Boxcar Chorus for a benefit concert for charities Elizabeth House Maternity Home and Voices for Children, so you can celebrate the holidays generously!
Brazos-based Great American Boxcar Chorus spans several genres as they spread their original music through Texas. During their over 15 years of experience and on their seven albums, they've embraced and blended folk, Americana and rock, and this weekend, holiday music is added to the list. With their embrace-anything attitude, they're sure to create a jolly atmosphere.
Elizabeth House is a Bryan/College Station organization that provides a safe, free place for women experiencing an unexpected pregnancy and up to two of their children. While housed there, women receive emotional, physical, psychological, educational and spiritual support. Volunteers help teach the women life skills, hold events, raise money, babysit, drive and more.
Voices for Children is an organization of over 160 volunteers working to improve the lives of children who have experienced abuse or neglect. As their website states, "Voices for Children trains and supports community volunteers to be the voice for children in court, in schools, at home and in the community." The organization serves seven counties across Texas, including Brazos.
General Admission to this concert costs $10 in advance and $12 at the door, along with the option to donate to each of these charities. If you cannot make it to the concert, you can still donate on the ticketing page. You will not want to miss Grand Stafford Theater's festive opportunity for you to give back to the community this holiday season!