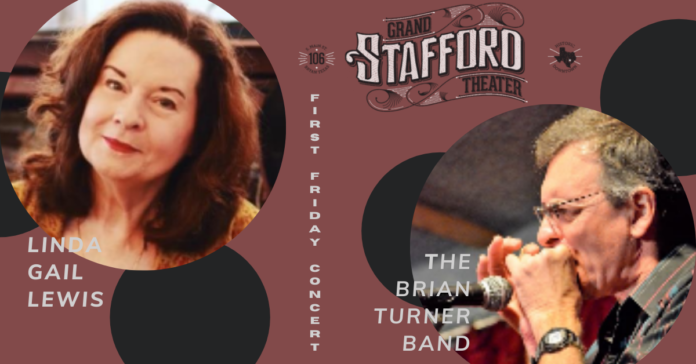 The longing and anticipation to return to one of Bryan's hottest entertainment hubs is finally OVER. Free First Fridays at the Grand Stafford Theater are making a big return this week with The Brian Turner Band and special guest Linda Gail Lewis! So dust off your dancing shoes, call up some good friends, and come on out to the historic venue this Friday, June 4 at 8 p.m. for a summer night out on the town!
Free First Fridays have been a staple of the Downtown Bryan Cultural Arts District, providing the community a night to enjoy a free live show and get an early start to the weekend. Though the pandemic interrupted the theater's plans to keep moving forward, the venue is more than ready to get back and continue building Bryan's live music scene.
"After being closed for more than a year, we are happy to be able to hold public events at the Stafford starting this Friday," says Jose Quintana, Grand Stafford Theater President. "We are working on scheduling concerts for the summer and fall, and so far, we have none other than Colony House performing at the Stafford in September!"
Headlining this Friday's show is The Brian Turner Band, also known as the Rockabilly Deluxe Show. Recognized for their unique takes on late 50s and 60s songs such as "It's so Easy!" and "Hello Mary Lou," the group has given these classic tunes a second life through exposure to a new generation of fans. Joining the band for the night is harmonica phenomenon John Burnett. Usually acting as Southwest Correspondent for NPR, Burnett's talents certainly extend past writing and well into the music world as a talented harmonica player.
The lineup surely can't get any better than this, right? It sure can! Another performer well-versed in the rockabilly genre, Linda Gail Lewis, will also be putting in a special guest appearance Friday night. With decades worth of experience under her belt, a big brother named Jerry Lee and cousins named Mickey Gilley and Jimmy Swaggart, you can be sure Linda Gail knows what she's doing. A gifted pianist, Lewis has a versatile voice perfectly fitted for rockabilly and high-energy performances.
Doors open at 7 p.m. with music starting an hour later at 8. This show is being brought to you by Casa do Brasil, so true to its name, First Friday tickets are free as always! But if you are looking for a VIP experience with access to the theater's upstairs lounge area, you can purchase "premium passes" for $10 on the GST website. Free First Fridays are officially returning full-time and will be held every month from now on. Welcome back this Downtown Bryan tradition by heading out this week and showing some love to the beloved theater and a great lineup!
Sources:
Interview with Jose Quintana
https://grandstaffordtheater.com/event/free-first-friday-w-the-brian-turner-band-and-special-guest-linda-gail-lewis/