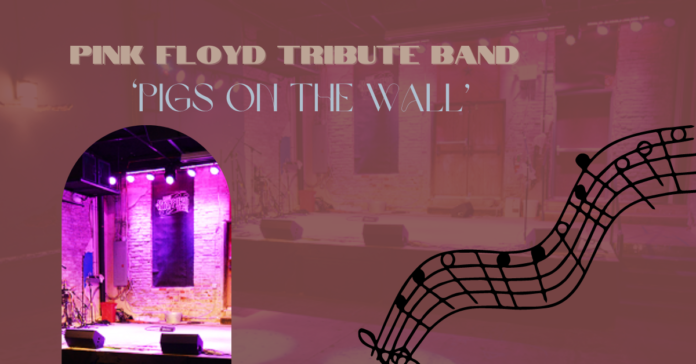 Are you banging your head against the wall trying to fill the empty spaces of summer that are supposed to be the happiest days of your life? 'Pigs on the Wall' has got you covered!
Pink Floyd tribute band 'Pigs on the Wall' (a clever combination of the track "Pigs on the Wing 1" and album "The Wall") will be performing at The Grand Stafford Theater on June 24. The doors will open at 7:30 p.m., with the music beginning at 8 p.m. with opener, "Bran the Mystic."
Randy Wall, band leader of 'Pigs on the Wall' says the circle of musicians formed the band in September 2013 and played together two to three times a year.
"This particular band was started as a fundraiser to raise money for a local historic concert venue, Last Concert Cafe, so we put together Pink Floyd songs and FLO artists to put on a show and raise money so they can be ADA compliant," Wall says.
It's only been in the last couple of years that they began to book gigs close to once a month, Wall says, and since then, had several guest guitar and saxophone players. What once was a circle of musicians that appreciated the musical stylings of Pink Floyd is now "a vehicle for [guitar players] to shine and show off what they do."
'Pigs on the Wall' will perform most of Pink Floyd's greatest hits with a two-and-a-half-hour set list that includes tunes from 'Wish You Were Here ', all of 'The Dark Side of the Moon,' about a third of 'The Wall', and most of 'Animal.' Wall says they are also very fortunate to be joined on stage by Grammy Award-Winning guitarist, Marion Aquilina, and saxophone player and vocalist Evelyn Rubio, who will deliver a special performance of 'The Great Gig in the Sky.'
General admission tickets are on sale for $15, and will be a radio-friendly show to attract a wide variety of people, Wall says.
Are you convinced yet? If not, take Walls' advice, "Come to the show! It's going to be a lot of fun!"