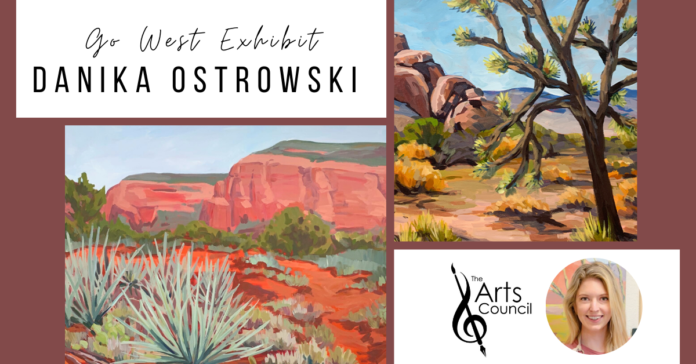 The American West has been the subject of peoples' fascination for hundreds of years. Movies, songs, and artistic works have all portrayed the landscapes and peoples of the western wilderness, and while we may be far removed from the days of cowboys and settlers, the western landscape still inspires artists like Danika Ostrowski, whose works are currently being shown at the Arts Council of Brazos Valley's galleries.
The Austin-based Ostrowski, who held her first exhibition half a decade ago at the Arts Council's galleries, is excited to be back in College Station. Having been featured by both Southwest Art and Western Art Collector, Ostrowski translates her love for the wide open expanse of the American wilderness into beautiful landscape paintings. Growing up visiting the National Parks almost every summer with her family, Ostrowski was inspired by the depth of beauty and awe she experienced in nature. Inevitably, her two interests of nature and art eventually collided, and she says, "I began painting the vibrant colors and wide-open spaces of American National Parks in the West."
Ostrowski's emotional attachment to public lands is obvious from looking at her works. Her frequent travels and preference for initially sketching, photographing and painting outdoors provides inspiration and enables her to later capture the emotional feeling of a particular scene. Rather than resulting in an exact portrayal, this method lends her work a mystical quality that defines the essence of the area.
Her love for landscapes goes beyond her passion for portraying them artistically, however; Ostrowski advocates for the preservation of public lands and says she is eager to use "her platform as an artist to fundraise for the National Parks Foundation and spread awareness of conservation efforts."
You can learn more information about this event directly from the Arts Council of Brazos Valley's event page. Ostrowski's paintings will be on display until November 14, so make sure to stop by and check them out before the gallery changes! If you're interested in learning more about her work, you can check out Ostrowski's website, where you can view her portfolio and even purchase originals and prints.
Sources for Fact Checking: