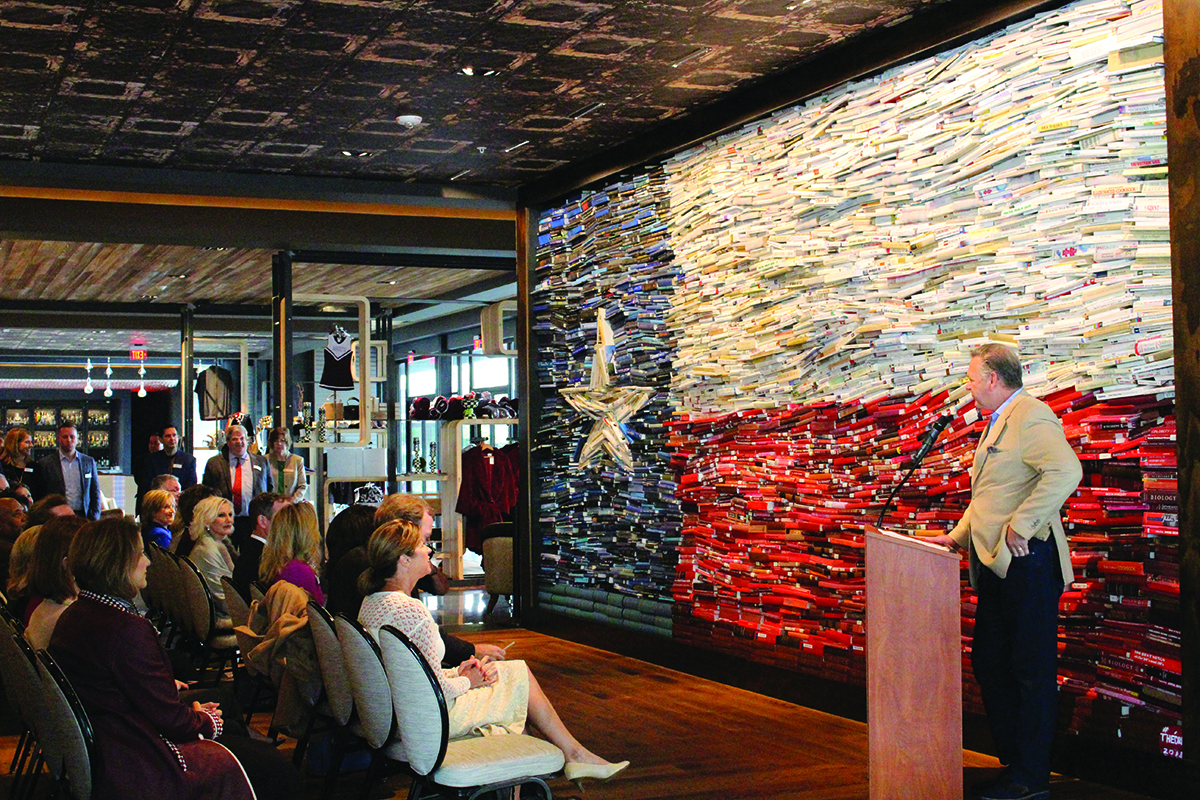 Imagine an entire wall of almost 10,000 red, white, and blue-edged books stacked on top of one another to resemble a Texas flag. The book wall at The George Hotel is indeed quite a sight. Designed by artist Thedra Cullar-Leford, those 10,000 books are from a variety of genres that celebrate Texas pride, some of which include Aggie textbooks and Texas BBQ cook books. This past week, the "Go Big or Go Home" book wall was dedicated to the late "Champion of Literacy," Barbara Bush,  in a plaque unveiling ceremony.
"My wish is for every parent and child to experience the joy of reading and a lifetime of learning." Those words, said by former First Lady Barbara Bush, are printed on a memorial plaque just to the right of the book wall. Though the wall has been in the hotel for over a year, Midway Chairman Brad Freels felt it lacked "meaning." So, on Wednesday, October 17, Freels, members of the Bush family, and friends were on hand to remember Mrs. Bush's work in literacy.
Mrs. Bush's legacy is especially dear to the Brazos Valley community, as she and her husband, 41st President of the United States, George H.W. Bush, frequented Texas A&M sporting events, commencement ceremonies and their namesake institution, The Bush School of Government and Public Service. Though not originally from Texas, nor an Aggie, President Bush selected Texas A&M to house the George H.W. Bush Presidential Library and Museum, in addition to the George H.W. Bush Presidential Foundation.
Their son Neil's dyslexia diagnosis prompted Mrs. Bush's interest in the nationwide issue of literacy, particularly generational and family illiteracy. Through her research, Mrs. Bush held the belief that illiteracy is linked to several other societal challenges, including homelessness, crime and hunger. To help combat this concerning matter, in 1989, she founded the Barbara Bush Foundation for Family Literacy.
During the ceremony's opening, Freels declared there to be "no more suitable recognition [for Mrs. Bush] than having a book wall in her honor at a hotel named George," to which the audience laughed and clapped in agreement. Following in his mother's philanthropic footsteps, Neil Bush presented a $1,000 donation to College Station ISD Education Foundation Executive Director Teresa Benden. The check will fund 100 book vouchers for students at their school's book fairs. In an interview shortly after the ceremony, Bush stated that his mother believed "if you can't read at the appropriate level, you can't live up to your God given potential."
Guests of the luxury 4 star George hotel can round up their bills and donate the extra funds to the Barbara Bush Houston Literacy Foundation, the charity Neil Bush founded in his mother's memory.
Sustaining its homage to the Lone Star State, The George also has another feature wall entitled "Texas Twist." Inspired by a cowboy's lariat, "Texas Twist" is made up of 6000 linear feet of oil-dipped woven rope. As a nod to the Brazos Valley countryside and grazing sheep, the hotel has strategically placed a flock of three dimensional, graffiti tagged sheep throughout the hotel and in luxury suites, ready to greet guests and inspire selfies.