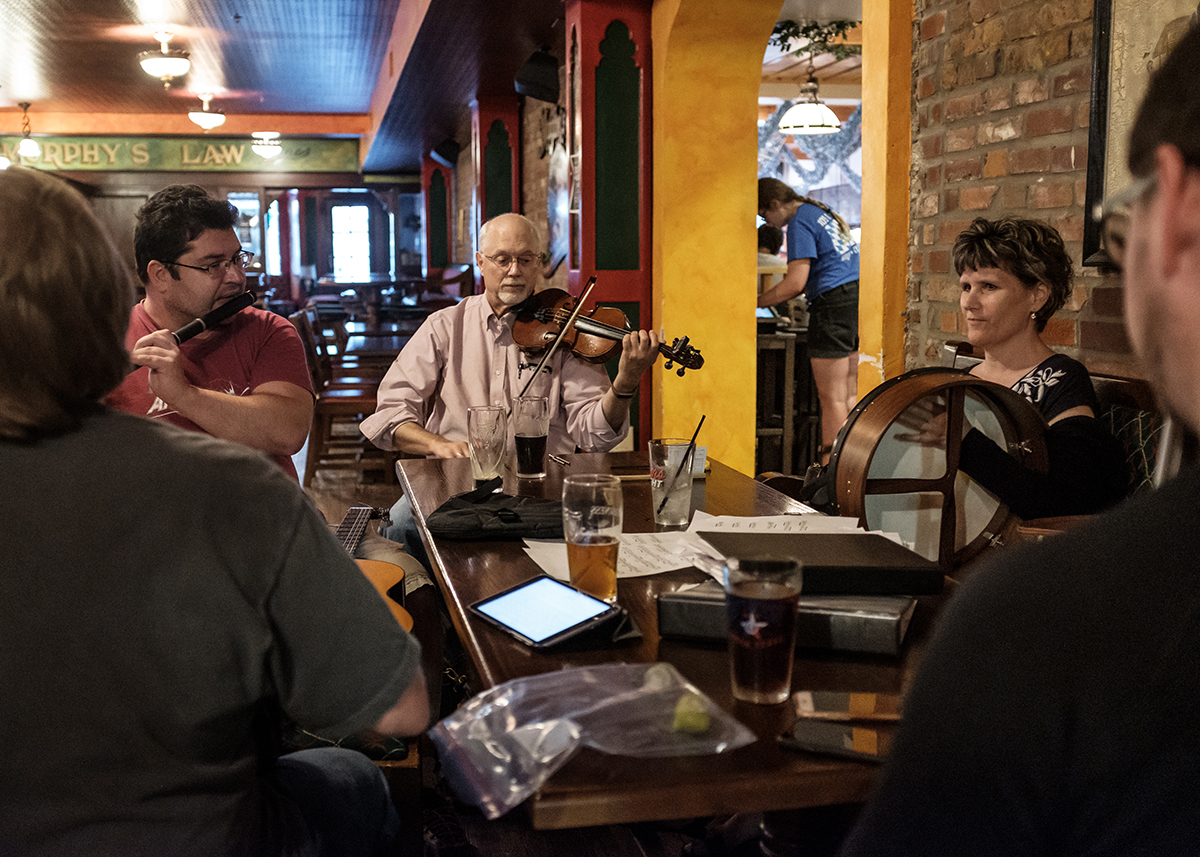 Everybody pretends they're Irish on Saint Patrick's Day, but the folks at BCS Irish Session make it last all year long. And they're not the only ones. From Sydney to Moscow to LA, musicians are gathering to play traditional Irish music. The fact that you can go to any city in the world and join a group makes it clear: Irish Session is a thing. And Bryan/College Station is not about to be left out of the fun.
So what's the appeal? Equal parts great music, a welcoming atmosphere, and beer. But also that Irish Session is for everyone. Anyone with a guitar, mandolin, flute, Irish whistle, fiddle, tenor banjo, bodhran, concertina, button accordion, and even—wait for it—Uilleann bagpipes can join in, regardless of skill level. Of course, it helps that these events usually take place in an Irish pub with a pint of Guinness. Yet the beauty of Irish session is that the music isn't meant to be pro sounding. Instead, it's an informal jam of Irish dance music. As Irish whistle player Bryana Childers says, "It's toe-tapping music that makes you want to get up and dance!"
Childers has been playing with the BCS group for its six year history, and knows a thing or two about Irish Sessions. "As with everything else in life, it's all about the relationships. We make music, laugh, and truly care about each other," she says.
Mandolin and tenor banjo player Brian Shaw is a little more philosophical. "Playing traditional music connects you with something much larger than yourself. It's been around for centuries. And gonna be around for centuries. It really is a worldwide art form."
The BCS session meets at Murphy's Law in downtown Bryan, where musicians sip a pint and play tunes like "I Buried My Wife and Danced on Her Grave." The pub itself lends to the magic. Behind the bar, wooden archways from an Irish church grace the walls, which bartender Geoff Boase feels isn't ironic at all, since Irish priests tend to drink a lot of beer. The archways, large wooden tables, and painted wall murals add Irish flavor to the pub, and Boase says so does the session. "The band is always welcome to play! They add a fun, authentic atmosphere." Perfect for keeping that luck o' the Irish spirit alive all year long.
So whether you're a punter (listener) or a player, come out to Murphy's Law any Wednesday from 6:30 p.m. – 9 p.m. for a pint of Guinness, a shot of Jameson's, or even an Irish Car Bomb. For more info, check out the group's Facebook page: BCS Irish Session Group. Photo by Richard Bloomer.