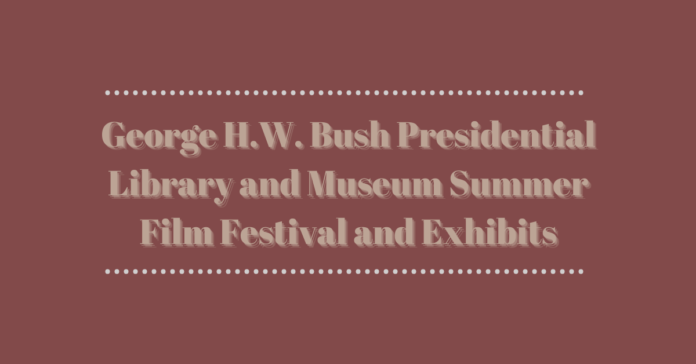 Kick off your summer with the George Bush Memorial Library and Museum's 2022 Summer Film Series on May 27 at 7 p.m. with a showing of "Shark Tale." The movie experience not only provides a free, fun outing for you to spend time with the kids, it opens the door for conversations about two upcoming Bush Museum and Library exhibits: Texas Sea Grant: 50 Years of Science and Stewardship, on display from July 1-5 and Oceans of Plastic, on display from July 1-Aug 1.
If you've ever watched a movie out of doors with your kids, you'll know how special it can be to snuggle up on a blanket and watch the film while the stars come out above you. The first film in this summer's series puts you in the perfect beach mood. "Shark Tale," a 2004 DreamWorks animated movie, points out that small actions can lead to big consequences. When Oscar, a regular guy bottom dweller of a fish tries to improve his lot in life by falsely confessing to the murder of the son of a mob boss, he's instantly given hero status, but things do not go as smoothly as Oscar plans. In the end, he learns that lies can keep you from living your best life. "Shark Tale" is rated PG, and is an hour and 30 minutes long.
From July 1-5, be sure to check out the Texas Sea Grant (TSG) exhibit in the Ansary Gallery of American History at Bush Library and Museum. TSG is celebrating its 50th birthday of science and stewardship with this exhibit, where visitors can learn about how Turtle Excluder Devices help save sea turtles as well as experience the wonder and beauty of our coastline. You'll also get a feel for the scope and range of Texas Sea Grant programs, and better understand how you can make a difference as stewards of the Texas coast. For more information about the Texas Sea Grant, their research, and how you can give your support, click here.
While you're there, you can also take in the Oceans of Plastic art exhibit, which will be on display until August 1. One of our biggest issues worldwide with our relationship to the ocean is our use of plastic. Oceans of Plastic, by Corpus Christi-based artist Shelia Rogers, is a strangely beautiful collection of art made from plastics acquired from beaches along the Texas Gulf Coast. Rogers' inspiration stems from the moment she recognized the rapidly increasing accumulation of single-use plastics on Texas beaches she frequents. Rogers began collecting the plastic and transforming it into spirited works of art to highlight the true impact of plastics on our wildlife and marine ecosystems.
The Summer Film festival will continue with three more movies throughout the summer, so be sure to enjoy this free event for the Bryan-College Station community. The Bush Library and Museum encourages you to bring your blankets and lawn chairs as you relax and savor these films under the stars. Games and free refreshments, while supplies last, will begin at 7 p.m., and the movie will start just after sundown. Anyone is welcome to bring their coolers, but the Bush Library and Museum requests that you leave home without your pets and glass containers.