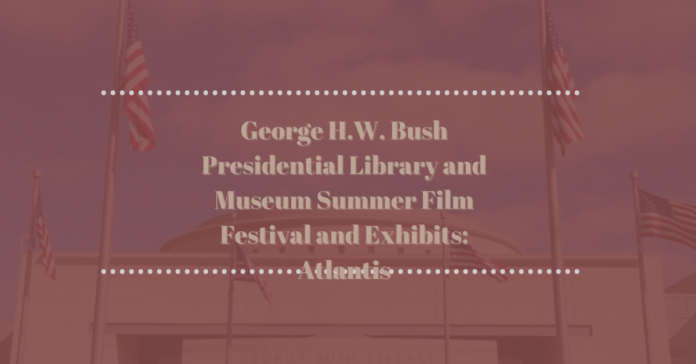 Is the beginning of your summer slow? Are you at a loss for what to do with your extra time? You're in luck! Whether you kicked off your summer with the George Bush Memorial Library and Museum's 2022 Summer Film Series with "Shark Tale," or this is your first time hearing of it and it sounds exciting, come catch the showing of "Atlantis: The Lost Empire" on June 17 at 7 p.m. You can bring the whole family out for the free movie experience that not only provides a night of entertainment, but an educational opportunity to learn about the inspirations behind the two upcoming Bush Museum and Library exhibits: Texas Sea Grant: 50 Years of Science and Stewardship, on display from July 1-5 and Oceans of Plastic, on display from July 1-Aug 1.
The second film in this summer's series, "Atlantis: The Lost Empire," sparks a sense of adventure in the warm weather. "Atlantis: The Lost Empire" is a 2001 Walt Disney Pictures animated film that follows an amateur adventurer who becomes the key to solving an ancient mystery when he joins up with a group of daredevil explorers to find the legendary lost empire of Atlantis. Milo Thatch, a naive-but-determined museum cartographer, dreams of completing the quest begun by his late grandfather, a famous explorer. When an obscure journal is discovered, an eccentric billionaire funds an expedition and the action kicks into high gear. "Atlantis: The Lost Empire" is rated PG, and is an hour and 35 minutes long.
From July 1-5, be sure to make your way to the Texas Sea Grant (TSG) exhibit in the Ansary Gallery of American History at Bush Library and Museum. TSG is celebrating its 50th birthday of science and stewardship with this exhibit, where visitors can learn about how Turtle Excluder Devices help save sea turtles as well as experience the wonder and beauty of our coastline. You'll also get a greater perspective on how you can make a difference as stewards of the Texas coast and a feel for the variety of Texas Sea Grant programs. For more information about the Texas Sea Grant, their research, and how you can give your support, click here.
While you're there, don't miss out on the Oceans of Plastic art exhibit, which will be on display until August 1. One of the largest problems with our relationship to oceans worldwide is our use of plastic. Oceans of Plastic, by Corpus Christi-based artist Shelia Rogers, is an oddly magnificent collection of art made from plastics acquired from beaches along the Texas Gulf Coast. Rogers' inspiration stems from the moment she recognized the rapidly increasing accumulation of single-use plastics on Texas beaches she frequents. Rogers began collecting the plastic and transforming it into spirited works of art to highlight the true impact of plastics on our wildlife and marine ecosystems.
There will only be two more movies in the Summer Film festival throughout the summer, so be sure to partake in this free event and visit the two rotating exhibits. The Bush Library and Museum invite you to relax and enjoy these films under the stars by bringing your blankets and lawn chairs. Games and free refreshments, while supplies last, will begin at 7 p.m., and the movie will start just after sundown. Anyone is welcome to bring their coolers, but the Bush Library and Museum asks that you leave your pets and glass containers at home.