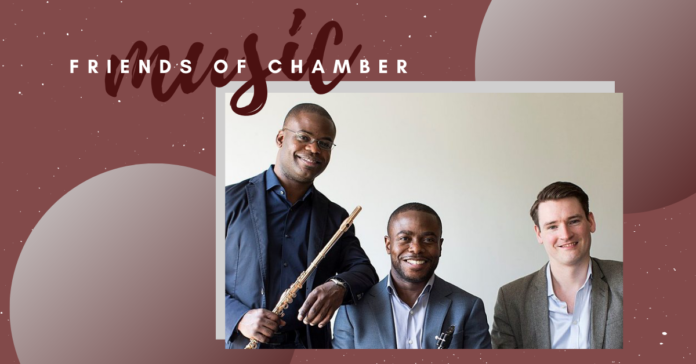 We're all familiar with the saying "one's company, two's a crowd, and three's a party," and in this case, it's definitely true! In their next free, virtual concert, Friends of Chamber Music will feature the McGill-McHale TRIO, one of the most recognizable ensembles of today's classical music. The musicians will also participate in an exclusive interview with FCM as part of the program, which premiers on Friday, Jan. 15 at 7 p.m. and will be available to view on demand through Sunday, Jan 17.
In September 2014, one of Ireland's leading pianists, Michael McHale, joined brothers Demarre and Anthony McGill in concert during the brothers' residency at Bowling Green University in Ohio. It was clear from the first few bars that the future ahead of them was bright, and the trio has since released an album on Cedille Records and collaborated with Oscar-winning actor Mahershala Ali. They have also performed in concerts in New York, Philadelphia, Washington DC and Tulsa, among many other cities.
"The McGill-McHale TRIO is an ensemble that is remarkable on many, many levels," says Elena Reece, Friends of Chamber Music Artistic Director. "First of all, the McGill brothers, flutist Demarre McGill and clarinetist Anthony McGill, are both very prominent musicians—Demarre is a principal flute for the Seattle Symphony, and Anthony a principal clarinet for the New York Philharmonic. Anthony is the first ever African-American principal player for that worldwide renowned orchestra, and these are all incredible accomplishments!"
The trio will perform music by Antonin Dvořák, Claude Debussy, Francis Poulenc, and our contemporaries, Chris Rogerson (b. 1988), Guillaume Connesson (b. 1970), and Paul Schoenfield (b. 1947). Reece says, "The majority of the pieces are written or arranged for the trio. We can expect a number of musical discoveries from this concert, ranging from the variety of rare and delightful sonic combinations generated by the timber colors of flute, clarinet, and piano, to the pieces of music that are featured in the program. In short, the variety and inventiveness of this program will satisfy practically any musical taste."
With the pandemic, Friends of Chamber Music has successfully managed to move from exclusively in person concerts to providing the same stellar level of programs in an accessible, digital format. "One of the most attractive features of the Friends Digital Series," Reece says, "are the exclusive interviews that Friends of Chamber Music records with the musicians on Zoom and then makes a part of each digital event. For the interview with the McGill-McHale TRIO, we invited Penny Zent, renowned flutist and our dear friend and colleague, to join us." Zent was lucky enough to have attended a live concert a while back, and as Reece puts it, Zent's been "keeping her ears on their amazing professional progress and artistic development."
Even in a tumultuous season such as now, Friends of Chamber Music is committed to continuing to offer educational outreach programs for schools and college students in the community. The McGill-McHale TRIO will be participating in an educational outreach event with the students of composer and Professor of Music at Texas A&M, Dr. David Wilborn. Reece says the students will be able to interact online with at least one of the members of the McGill-McHale TRIO.
Though Friends of Chamber Music hopes to welcome these exceptional musicians to their stage in person someday, now is the perfect opportunity to hear their musical mastery at no cost. If you are interested in reserving FREE access to the McGill-McHale TRIO's virtual event, you can register through the Friends of Chamber Music's website by filling out the registration form.
Sources:
Interview with Elena Reece, Friends of Chamber Music Artistic Director