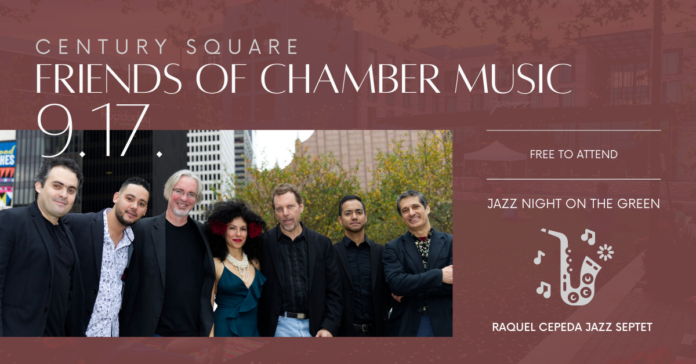 Looking for a different kind of Texas Friday night? Leave the crowded honky tonk behind, and trade in your cowboy boots for a slick pair of wingtips because Friends of Chamber Music is starting the new season with their first ever jazz concert! The Jazz Prelude with the Raquel Cepeda Jazz Septet will be held at Century Square's Jazz Night on The Green, Sep. 17 starting at 7 p.m.
Raquel Cepeda is a Houston-based jazz singer songwriter who brings a distinct blend of different cultures and genres to her music. Cepeda uses the likes of Brazilian jazz, Afro-Latin, American swing, Venezuelan jazz and Cuban jazz to bring a one of a kind performance that is bound to give casual fans or even jazz aficionados something they haven't heard before. Her septet is made up of Barry Sames on piano, Thomas Helton on double bass, Adriano Santos on drums, Cassio Duarte on percussion, ErnestoVega on saxophone, flute and clarinet, and Felix de Leon on trumpet. With all of these great musicians, it'll be hard not to have a good time! You can listen to Cepeda's newest album, "Passion," on streaming platforms or buy an autographed version as well as check out more touring dates on her website.
This event is totally free to attend and it will be held on The Green at Century Square, located between Hopdoddy Burger Bar and Sweet Paris Creperie & Cafe. The seating is limited, so Friends of Chamber Music encourages you to bring your own chairs to enjoy the show. There will be free garage parking available, so come a little early and enjoy some of the many great restaurants and bars in the area.
Friends of Chamber Music is an organization that has brought music from diverse periods and cultures performed by world class musicians to the Brazos Valley for the last 25 years. They also award scholarships to local high schoolers as well as host educational outreach programs for local students, ranging from kindergarten to college undergraduates. These programs include informal music presentations, workshops, and Q&A sessions with these great musicians.Check out their upcoming events and concerts on the Friends of Chamber Music website.