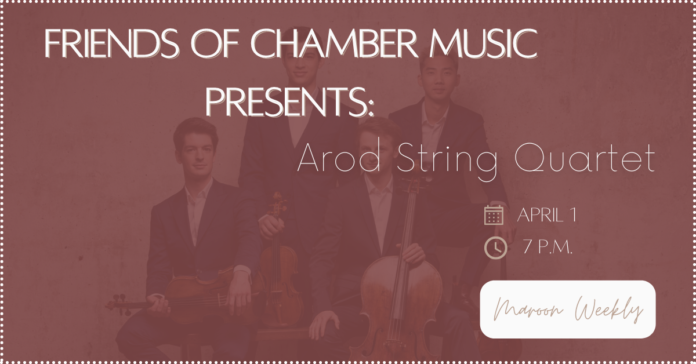 The Arod String Quartet will be taking the stage at the First Presbyterian Church in Bryan on Friday, April 1 at 7 p.m.. Hosted by Friends of Chamber Music (FCM), this is an event that will open your ears and welcome you into the magical world of music with the famous Mozart, Bartók, and Ravel.
The Paris-based Arod String Quartet is composed of Jordan Victoria, 1st violin, Alexandre Vu, 2nd violin, Tanguy Parisot, viola, and Jérémy Garbarg, cello.​​ Elena Reece, Artistic Director at FCM, says the "Arod Quartet is one of the most brilliant European string ensembles of the Y generation. They appeared on the international classical music scene six years ago and almost immediately began winning major competitions and acquiring important grants."
Friends of Chamber Music is a volunteer organization that has been running for 25 years in the Brazos Valley. Their mission is to bring world-renowned classical music artists right to BCS giving community members as well as students the opportunity to hear music from different cultures all over the world. Reece explains that "when students are enthused and inspired by this often once-in-a-lifetime opportunity to interact with the artists of the highest caliber and when at the concert the audience members are enraptured by what they hear," amazing things begin to happen.
Every program that FCM puts on is free to whoever wants to attend. There is also a livestream option for the event in case you're unable to make it in person or have a conflict, but you do need to register for it here. FCM truly does make it so easy to attend their events!