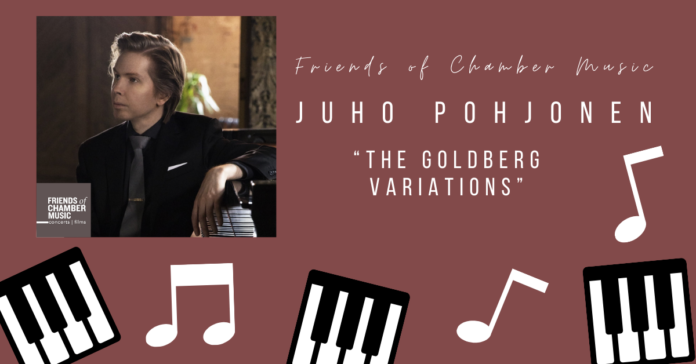 With so many event venues closed these days, it's hard to find safe options for entertainment, so if you're tired of queuing up Netflix every weekend evening, Friends of Chamber Music has just the ticket. Their 2020-2021 season opens Nov.14, and you'll be able to watch the first few concerts from the comfort of your home with the Friends new online feature.
The Friends of Chamber Music is a nonprofit organization working to bring classical music to the Brazos Valley community, and they never fail to disappoint. Their 25th season kicks off with the talented Finnish pianist Juho Pohjonen's performance of Bach's "The Goldberg Variations," a layered and complex piece made up of an aria and a set of 30 variations. Originally composed for harpsichord, the work was named for Johann Gottlieb Goldberg, who may have been the first to perform the work in 1741.
"The Goldberg cycle is one of the seminal keyboard compositions in Bach's oeuvre," says Elena Reece, Friends of Chamber Music Artistic Director. "And because it is a colossal work that demands years of preparation from the pianist, you won't find it in concert offerings on a daily basis. Every appearance of Goldberg Variations — either in concert programs, or in recording catalogues — gets a lot of attention, from the world's critics and audiences alike. The very thought that a pianist of this calibre would be performing in Friends of Chamber Music's Concert Series is thrilling!"
While it's a little disappointing not to be able to hear Pohjonen perform in person, Reece believes the online version can still make a major contribution to where we are right now, saying, "The Goldberg Variations by Bach is exactly the music that we all need right now. I am truly convinced that we do. Listening to it brings a sense of restored order. It reshapes broken pieces into harmonic structures."
Reece continues, "We all hope that life will be back to smiling at each other without masks, hugging friends and laughing together, and sitting next to each other, either at a holiday table, or in a concert hall. 'Some day,' we keep telling ourselves, 'some day.' But for this 25th season that is going to be mainly online now, we hope to help create a bridge that will get us there, to that 'some day.' The bridge that is being built by the outstanding guest musicians that Friends of Chamber Music presents, and by the Friends' amazing patrons who support our vision."
In case you're wondering, "chamber music" originated as music that could be played in a palace chamber room and utilizes a small number of instruments, lending a cozy, intimate air to the performance. Which means it's ideally suited to your living room as well. While registration is required to 'attend' this event, you'll receive a link to the performance that will remain active for two weeks, until Nov. 28, so suit your own schedule and watch it again and again! Make your reservation here, and don't miss the exciting Juho Pohjonen performing this beautiful and complex work!