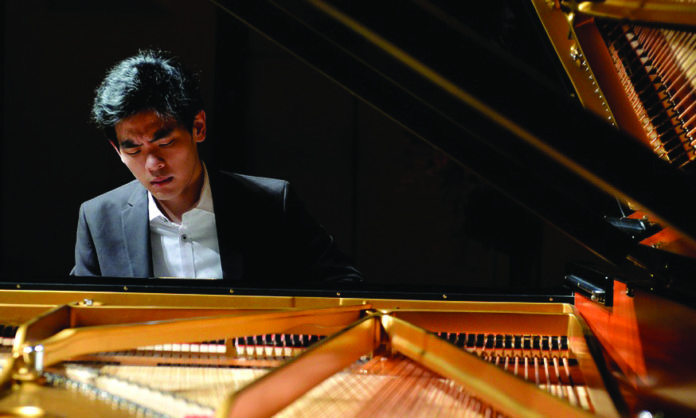 Ride an emotional rollercoaster with the musical genius of American pianist Daniel Hsu at the Friends of Chamber Music Concert on Tuesday, November 19, at 7 p.m. at Christ United Methodist Church. Hsu will perform works by Schumann, Schubert, and Chopin, and with his expressive range, his performance is sure to tug at your heartstrings, even if you're not usually one for classical music.

At just 22, Hsu is already an award-winning and recognized musician whose power, passion, and sensitivity are infused into each press of the keys. Prepare to be captivated by stories told solely through music from the hands of a master who has performed around the world, both solo and accompanied by many renowned orchestras and conductors. Hsu is appearing by arrangement with The Cliburn. The performance will begin with Schumann's Arabesque in C Major, op. 18, followed by Schubert's Four Impromptus, D. 899, op. 90. After intermission, the concert will continue with Chopin's "Fantaisie" in F Minor, op. 49 and Sonata No. 2 in B-flat Minor, op. 35.

Daniel Hsu graduated from the Curtis Institute of Music in the spring of 2019, studying under Gary Graffman, Robert McDonald, and Eleanor Sokoloff and was a bronze medalist at the 2017 Van Cliburn International Piano Competition. Hsu is also a 2016 Gilmore Young Artist.

According to their website, Friends of Chamber Music is "an outreach organization of volunteers in the community that brings musicians, chamber music, and other outreach music events to the community." Each event is free for all to enjoy, and this performance is no exception.

Let the stress of the week melt away and take a break! Join the Friends of Chamber Music and Daniel Hsu for a night you won't soon forget!
In anticipation of Hsu's concert, Friends of Chamber Music is sponsoring a free showing of the Oscar winning film "The Piano" at the Queen Theatre on Tuesday, November 12, at 7:00 p.m. Starring Holly Hunter, Harvey Keitel and Sam Neill, this period film about love and the hunger in our souls highlights the extraordinary power of a piano in the hands of a supremely gifted player. For more information about the concert, visit the Friends of Chamber Music website at bit.ly/HsuFOCM.