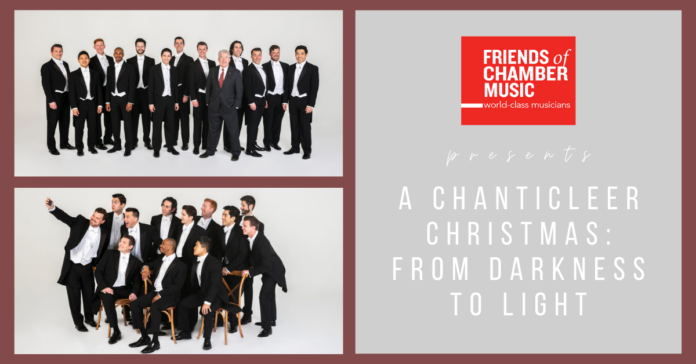 Who knew acapella could make the Christmas season aca-awesome? The Friends of Chamber Music is proud to present A Chanticleer Christmas: From Darkness to Light on Dec. 4 through Dec. 6.
Not even COVID-19 can stop this "orchestra of voices," and attendees can enjoy the pre-recorded performance from the comfort of their own homes!
"This holiday season," says Friends of Chamber Music Artistic Director Elena Reece, 'instead of offering A Chanticleer Christmas throughout the country, twelve Chanticleer singers have recorded this program at their home in the San Francisco Bay area."
The group Chanticleer began in the year of 1978, around a dining table in San Francisco. Since then, Chanticleer has had over one hundred men sing for the group, earning the highest reputation for quality singing.
This performance will be pre-recorded and available for viewing over a two-day period, yet despite not being an in-person event, Chanticleer still delivers a moving and especially meaningful Christmas tribute. "This thoughtfully designed and masterfully filmed production is an art film created as a meditative response of the ensemble to the challenging times, with them trying to find joy in this transformed Christmas season," Reece says.
Showcasing the work of diverse composers, the concert's program leads us to renew our hope of light shining through the darkness. "From the Renaissance to the late 20th century vocal works, this program is a reflection on the current state of the world and a comment on the transitional passage that it has taken in 2020," Reece says.
One unique feature of this year's concert performance is two pieces from the Armenian Divine Liturgy by Komitas, an Armenien composer and priest who survived the Armenian Genocide of 1915. There will also be perennial favorites like "Silent Night" and "Ave Maria," which Chanticleer performs every Christmas.
The Friends of Chamber Music will present Chanticleer on Dec. 4 from 7:00 p.m. to 8:00 p.m., and the recording's link will be available for viewing until Dec. 6. Registration is free, and make sure to stick around after the performance to witness The Encore!, an interview with four of the Chanticleer singers that is also pre-recorded.
Acapella is such a meaningful way to experience vocal music, and as Reece says, "It requires a very high level of connectedness and transparency that is beyond either physical or rational connections, the unity that allows many breathing as one." Very apropos words for what we're learning about how interconnected we all are this crazy year.
Access to free registration and more information about A Chanticleer Christmas: From Darkness to Light can be found on the Friends of Chamber Music website.