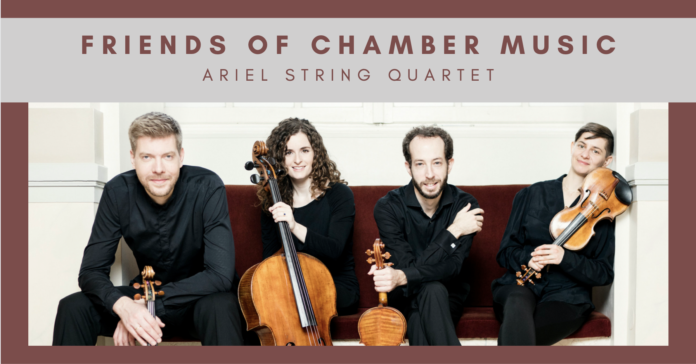 Friends of Chamber Music concert series has brought musical performances from all over the world to the Brazos Valley for free for the past 25 seasons. Due to the pandemic, the Friends of Chamber Music had to reschedule the performance of The Ariel String Quartet, but now the event, "Love and Baking in the Air," is accessible to all residents in an online format! The free event, including the concert, an interview with the musicians, and a baking show, can be accessed from Feb.12 at 7 p.m. – Feb. 14 at midnight.
Celebrating their 20th anniversary as a group, The Ariel String Quartet was created in Israel while three of its members were still teens attending the Jerusalem Academy Middle School of Music and Dance. Alexandra Kazovsky, Amit Even-Tov and Gershon Gerchikov were later joined by Jan Grüning, who is from Austria.
The quartet will be performing music from Erin Schulhoff, Beethoven and Steve Cohen.  In addition to the quartet's performance and an interview with all four of them, two of the members will be demonstrating how to make German Lebkuchen, Hannukah Doughnuts, Chocolate Babka and Viennese Apple Strudel. Elena Reece, Friends of Chamber Music Artistic Director, says the quartet's name comes from the Hebrew meaning of Ariel, which is "lion of God," one of many names for Jerusalem. 
Reece continues, "The essence of this event is that the musical works the quartet has chosen and the baking choices reflect the national identity of its members. The whole format of this digital project is very special. The musicians welcome us to not only their concert offerings but also into their home and kitchen. Listeners will find the experience very personal and welcoming."
The Quartet has won their share of awards, including the Cleveland Quartet Award by Chamber Music America for their artistic achievement, and the Grand Prize at the 2006 Fischoff National Chamber Music Competition as well as the Székely Prize for their performance of Bartók's String Quartet No.4.
All you need to do to access this amazing event is to register through the Friends of Chamber Music's website! After registering, a link will be sent to your email that will allow access to the concert starting Feb. 12. Don't miss out on this fun Valentine's Day inspired performance!