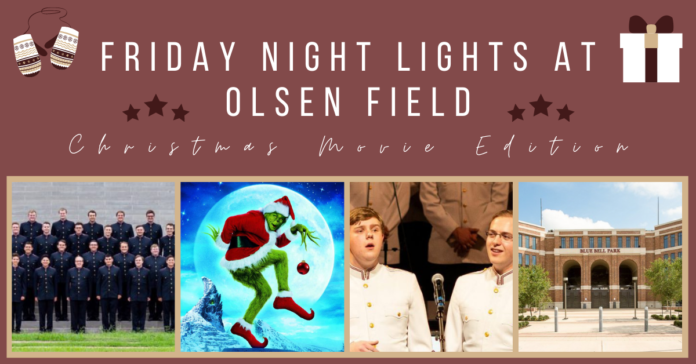 There's no better way to get into the Christmas spirit than watching Christmas movies with family and friends! Visit College Station is hosting a movie night at Olsen Field at Bluebell Park on Friday, Dec. 18, from 5:30 p.m. to 10:30 p.m. All ages are welcome so bring the whole family! Tickets can be purchased at the gate for $5 per person and free for children two and under.
The evening will include showings of two holiday favorites! "The Grinch" will begin at 5:30 p.m. and "Elf" will start at 7:30 p.m. There will be an intermission between the movies, where The Singing Cadets and Lil' Wranglers will perform! Plus, there will be a raffle giveaway for all you raffle lovers!
The Singing Cadets are an all-male chorus at Texas A&M University known as "The Voice of Aggieland." The Lil' Wranglers are a BCS swing dance team for youth. Enter the raffle to win a stay at the Texas A&M Hotel and gift cards to local restaurants.
Kendra Davis, Conventions Marketing Manager for Visit College Station, explains how this first-year event came to be. "We were thinking of ways to make Christmas happen during the pandemic in College Station, so we thought it would be a fun way to incorporate Texas A&M University and the city of College Station to put on Movies at Olsen Field."
Christmas time this year is far from normal for all of us, but that doesn't mean we shouldn't have fun with the family while still taking every safety precaution. Social distancing and masks are required while attending the event. There will be specific seating arrangements to keep each and every person safe."We are trying to make this event as big as we possibly can considering the circumstances," Kendra says.
To that end, the concession stands will be open and ready for business throughout the movie showings because snack cravings are real when watching the big screen! You can't watch "The Grinch" and "Elf" without having the yummy, buttery taste of popcorn melt in your mouth and the sweet taste of candy. And they've made attending even easier by providing free parking in Lot 100 and 100J. From there, it's just a short walk across the street to Bluebell Park
Be on the lookout for Movies at Olsen Field to become an annual Christmas festivity in our community! The Grinch and Buddy the Elf want you to join them at Olsen Field this Friday! Don't forget to bring your mask and loved ones!
Sources:
Interview with Kendra Davis, Conventions Marketing Manager for Visit College Station