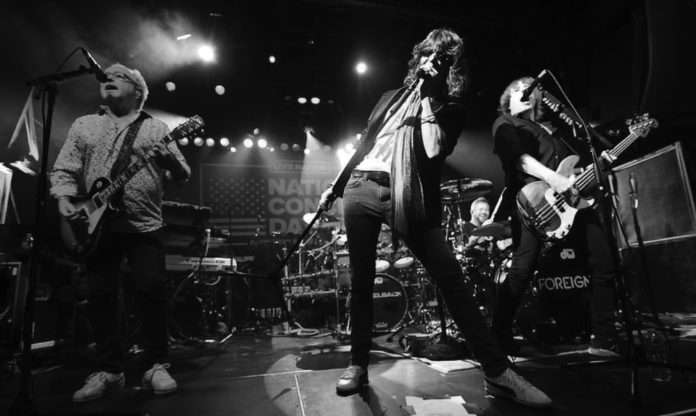 You might've heard about them from stories of how they electrified audiences, bringing tears to eyes and lighters to the skies with their arena-rock anthems. You might've even been in that audience that was invigorated by the iconic guitar solos emitting from the fingers of Mick Jones. Whether it was a debut album, greatest hits album, classic rock radio, or even Guitar Hero, most have heard about the hit-making jukebox heroes called Foreigner. This week, one of the biggest staples of the 1980s will be bringing their heavy rock/R&B fusion musicianship to College Station on February 11.

Foreigner took the music industry by storm with their debut album in 1977 that featured the timeless hit, "Cold as Ice." In their heyday, Foreigner was playing on just about every set of speakers you could find, receiving 10 multi-platinum albums and 16 Top 30 radio hits. Flash forward to today, and you'll find "Waiting For A Girl Like You" featured in the latest season of Netflix's "Stranger Things" and Foreigner on the list of Business Insider's Top 50 Best Selling Music Artists of All Time in 2017 and inside the top 10 artists on classic rock radio in 2019.

These days, Foreigner stays busy playing shows that may not be exactly the same as those in the 80s but provide that same feeling and energy. "Certain things haven't changed at all, and that's the energy between the band and crowd," says bassist Jeff Pilson. A member of the band since 2004, Pilson says that despite the exponential change in the music industry, Foreigner has still managed to find their place in the modern environment of music streaming due to their loyal fanbase. "With amazing fans," Pilson says, "the interaction that happens during the show really makes the experience more than just playing a song."

As many chances as they get, Foreigner now performs their hit, "I Want to Know What Love Is" with a local high school choir. The band donates $500 to the choir for appearing with them and the choir sells Foreigner CDs at the concert to raise money for The Grammy Foundation, the band's charity partner. Both Foreigner and The Grammy Foundation are passionate about helping to keep music education available to students as part of the core curriculum in high schools throughout North America.

"We're trying to help school music funding," Pilson says. "When there's budget crises almost everywhere, one of the first things to go are the music programs, and that's a real drag."

With philanthropic intent and their classic 80s flare, Foreigner will be performing at Rudder Auditorium on Tuesday, Feb. 11. Albums by the band, including their latest live album, "Double Vision: Then and Now," will be available for purchase at the event. 

For more information on the show and how to get tickets, visit MSC Event Details or call (979)-845-1234.