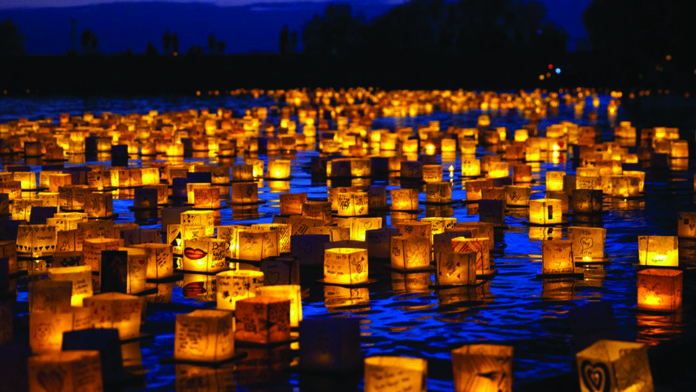 If you've ever watched Disney's "Tangled," you know that Rapunzel spent her life dreaming about the day she could release her own floating lantern. When she finally did, with the love of her life at her side, it was illuminating. You can have the same magical experience on your own or with loved ones at Aggieland Safari on Saturday, October 5, where they are hosting an enchanting evening by the lake with a Floating Lantern Festival.

The Floating Lantern festival, inspired by the popular Japanese festival Toro Nagashi, celebrates life by honoring lost loved ones. Toro Nagashi, literally meaning 'flowing lanterns,' stems from the Japanese belief that humans originated from water, and thus must return to the water in the after life. In essence, the Floating Lanterns guide spirits back to the spirit world. For Japanese, writing messages on the lanterns and setting them afloat is a way to update and talk to passed loved ones, or a way to set into motion their hopes and wishes for themselves, family and friends.

Aggieland Safari's Floating Lantern festival is an event for all ages. During the festival, guests will have the opportunity to write or decorate their own lanterns with wishes, goals, or art before setting them afloat later in the evening. Guests can also enjoy admission to over 20 acres of Adventure Zoo from the start of the festival until sunset. There will be live music and entertainment, chances to purchase refreshments, including food from food trucks, beer and wine and Sno Monkey Snow Cones. Additional animal experiences, including giraffe, bird, and tortoise feeding and camel rides will also be available to purchase. It will surely be a day you and your loved ones will remember!

The event will last from 4:30 to 9:30 p.m. Tickets are available to purchase online for $35 until September 30. Animal experiences will be based on availability. You can find the schedule for the event on the Aggieland Safari Facebook Page. 
For more information visit: https://www.aggielandsafari.com/floatinglanternfestival?fbclid=IwAR2E5muKYDqidk_ZB4HtH0Ad3ffg6wS5y8EgtLpq7YQsDJF9Nq6PPCTC6Wk