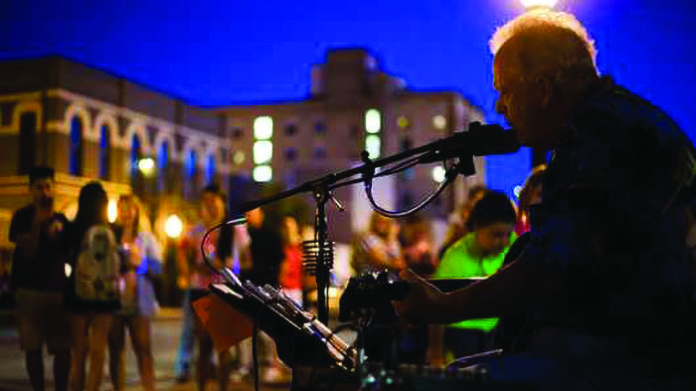 One of the best parts of living in BCS is going to First Friday—Downtown Bryan's monthly tradition of family friendly fun. Hosted by the Downtown Bryan Association on the first Friday of every month, this celebration features what's best about living in a smallish-sized town. So come on down and explore your local downtown area on Friday, September 6.
Listen to street musicians while dropping in to visit various shops along the way. You're sure to find something you can't live without! Ed's Bookshop off of South Main is a charming little bookstore that specializes in history and literature about Texans and the West. Old Bryan Marketplace is a great place to look for all of your home decor and furniture needs, with a great selection of both classic and modern design. Of course there are many beautiful antique stores downtown, including Corner of Time's Antiques Mall and Bird's Nest Gifts and Antiques.
As you walk through the beautiful streets of downtown Bryan, you can witness a plethora of amazing entertainment and live performances. At 8 p.m., The Palace Theatre headlines First Friday with its own live musical performance with amazing local bands. Several bars and restaurants in Downtown Bryan also host live musical acts. Additionally, many magicians and artists can be found performing all along the streets. Be sure not to miss the belly dancers!
Downtown Bryan also provides an abundance of food options with some amazing restaurants. For those looking for upscale fine dining, Madden's Casual Gourmet on South Bryan Avenue has amazing food and the best wine selection in Bryan. In the mood for Mexican? You can't get much better than Papa Perez Mexican Cuisine, which has amazing fajitas and an amazing atmosphere to go with them. There are even many mobile food vendors waiting around every corner if you don't want to wait around to eat.
As the sun goes down, First Friday keeps the party going with a vibrant nightlife of bars and live music all throughout downtown. Many bars even provide discounts for bar patrons during First Friday, giving you a great place to end your week right.
First Friday is a fun and entertaining night that will provide any family with a memorable experience. It's filled with great entertainment, amazing food, and wonderful stores to shop.  Activities begin at 5 p.m.
For more info, visit http://bit.ly/32gi8u4