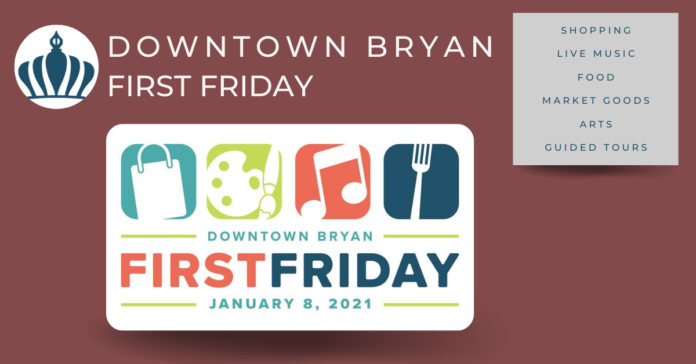 As we enter into the new year, one exciting way to kick off the first weekend of 2021 is by heading to Historic Downtown Bryan for First Friday! All day long, stroll into your favorite shops and restaurants and find new ones you've never been to before.
In the evening, let your ears fill with music from street musicians playing outside The Village Cafe and Design Superstore, as well as The Bryan Turner Band, performing at the Palace Theater from 7-9 p.m.
As you meander, be sure to stop by Main Street between 26thth and 28th, where you'll find the Brazos Valley Farmers Market from 5-9 p.m. From seasonal vegetables sold by The Farm at Millican Reserve, handmade soaps and scrubs from The Fruitful Vines, and flower arrangements cut and bundled by Bundles of Blessings Flower Farm, there are plenty of options to choose from!
In addition to the shopping, eating, and live music offered by businesses during First Friday, the Astin Mansion Event Center is doing free guided tours of the historic mansion just a stone's throw away from downtown. From 6-8 p.m., they'll host a tour every hour on the hour, taking you through the charming 1920s home that now serves as a special events center for weddings, formals, parties, and more.
But shopping, eating, and guided tours of local gems aren't the only activities offered this First Friday. If you're interested in the arts, look no further than DEGALLERY. Located about 10 minutes from Downtown Bryan, DEGALLERY will be holding a free, public event showcasing their new art show, "Fresh Paint 2021" by Bryan Contemporary Artists, from 6-9 p.m. For the past three years, Bryan Contemporary Artists have been presenting their artwork throughout the Bryan/College Station and surrounding areas.This weekend, pieces from over 10 local artists will be on display.
With so many activities to choose from this First Friday you surely won't be disappointed during the first weekend of the new year!
Sources: