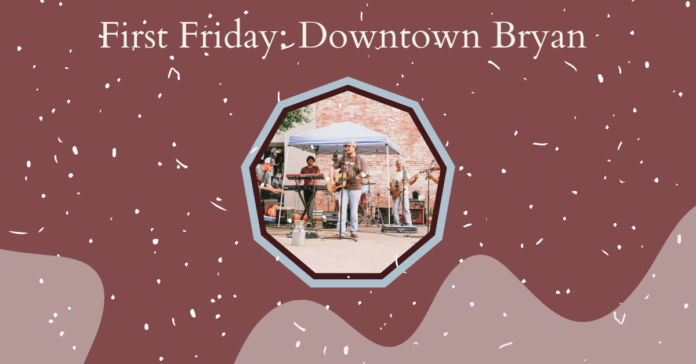 Happy First Friday! The time flies so fast between each First Friday, but Downtown Bryan has some new events to offer this coming May 6.
If you own a pair of roller skates, now is the time to bring those bad boys out. For one night only, Downtown Bryan is blocking off Bryan Avenue from 6:00 to 10:00 p.m. so that everyone can enjoy themselves on the makeshift roller rink. If you're in need of some support or tips, Brazos Valley Roller Derby will be there to catch your falls. Who better to learn from than this talented skating group? Downtown Event Services will also be there to provide you with the soundtrack to your speed racing and funky moves. Unfortunately, skates will not be available to rent – so don't forget to bring your own.
After you've tired yourself out on the rink for a while, take a break and check out the Art979 Art Loop to support Bryan's local artists! Each First Friday showcases new artists with amazing talent – from crocheted clothing to handmade jewelry.
The Grand Stafford Theater will host their monthly free concert featuring Paper Brigade, an indie-rock band from Houston, starting at 8:00 p.m. Or you could choose to be mesmerized by The Aggie Magic Circle street magic show or play outdoor chess, and then you can catch Colton French playing his folk music at Ronin from 7:00 to 9:00 p.m.
Try going zen with an exclusive free hour-long yoga class from Studio Yoga. There'll be a variety of different styles presented by different teachers. If you're interested, reserve your spot ahead of time!
And there's even an event for dog-lovers! Long Way Home will be hosting an adoption happy hour from 5:00 to 7:00 p.m. at The 101. Afterwards, enjoy live music from Sykotic Tendencies.
Do you miss watching movies in an actual theater? The Queen Theatre is premiering the Marvel film: "Dr. Strange in the Multiverse of Madness" at four separate times starting at noon, 3:00, 6:30 and 9:30 p.m. Tickets are $14.
Then to finish off your evening with style and flair, stop by the Casa Rodriguez Cinco de Mayo Block Party for salsa dancing to live music.
It's always a family-friendly party on First Friday, so come join the fun!