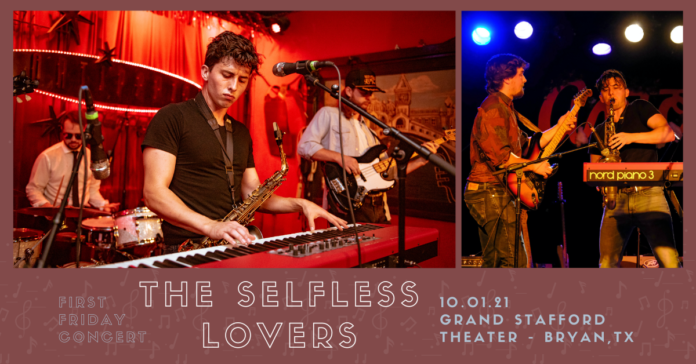 What better way to kick off the spooky season than with some good ol' fashioned rock and roll accompanied with the town favorite First Friday celebration? You're gonna have trouble keeping up with all of the great activities earlier in the day, but you won't have any trouble having a good time at night because The Selfless Lovers are performing at the Grand Stafford Theater on Friday, Oct. 1, with doors opening at 7:30 p.m. and music beginning at 8:30 p.m.
The Selfless Lovers are a rock and roll band out of Austin made up of Nik Parr on vocals and saxophone, Daniel Warner on drums, Augie Gmitter on bass and Keegan Flynn along with Mishaun Bhakta on guitar. Backing vocalists are Kelly Khun and Tory Niemann. Their music is a piano driven mix of classic rock, soul, blues, and some southern rock that equates to a sound you can't help but tap your feet to. With just one listen of their music, you won't be surprised that they've been inspired by some of rock music's biggest acts like The Rolling Stones, The Allman Brothers and Bruce Springsteen. However, with the use of that lead piano, their music has a different flair that's completely unique to them. They've released three EP's and several singles, and they're preparing to release their debut album, "When the Bars Close," this coming spring. You can check out all of their music on streaming platforms as well as more information about touring on their website.
This concert will be free to attend for general admission, and The Selfless Lovers will be playing two 75 minute sets, so there'll be plenty of rock and roll to go around! You'll also be able to purchase a premium pass for $10 to have access to the lounge. As this show is a part of the First Friday celebration, there'll be free parking on marked spots along the street and also in the parking lot between Papa Perez and Sale Park. You can also pay for parking at the Roy Kelly Garage.
The Grand Stafford Theater is one of the premier music venues in the entire area, with their unparalleled dedication to cutting edge lighting and sound technology as well as their huge selection of wines, spirits, craft-beers, and more than 48 classic cocktails. It's definitely more than just an empty room where music is played, it's an entire experience for both the audience members and the artists performing.