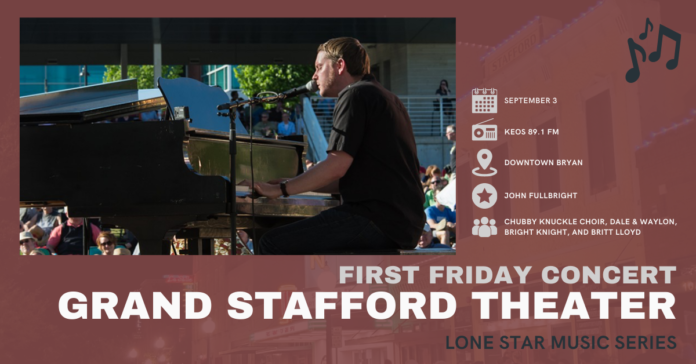 Looking for a jam-packed night of jams? The KEOS 89.1 FM Lone Star Music Series and the Grand Stafford Theater are bringing just that to Bryan on Friday, Sep. 3!
What could be better than a free concert at one of the best music venues in town? If you've never been to The Grand Stafford in Downtown Bryan, you're in for a treat, especially with this line up, featuring Grammy nominated John Fullbright and special guests Chubby Knuckle Choir, Dale & Waylon, Bright Knight, and Britt Lloyd. The doors open at 5 p.m. so either get in line early so you don't miss out or go ahead and purchase tickets so you're guaranteed a spot.
John Fullbright is a well established singer songwriter, who started off at the Blue Door listening room in Oklahoma City. Fulbright's 2012 debut album "From The Ground Up" was nominated for Americana album of the year at the Grammys. With his mix of genres like country, blues, folk and rock and his attention to lyrics, Fullbright offers a little something for everyone.
Chubby Knuckle Choir was founded by Curtis Farley in 2009 and later joined by Perry Lowe and Rory Smith, and the three have been recording albums since 2015. With their eclectic mix of flavors and genres, they've dubbed their sound "Acid Funk-Soulgrass."
Dale & Waylon Lifelong friends Ryan Dale Davenport and Jake Waylon Leham picked up playing music from their dads, and pride themselves on performing songs that have been "lived in" and "lived through." In 2020 they released a ten track, self-titled album that can be found at all major online stores.
Bright Knight, an indie and folk rock duo made up of Claire and Tristan Boyd, has a connection on stage that only a husband and wife could. This group's thoughtful lyrics and mellow sound adds to the great mix of music for the night.
Britt Lloyd is an A&M graduate and released his debut album, "Unlabeled," in 2006. He followed that up with "The Ink" in 2008 and "Conglomeration" in 2013. A great mix of Texas country and the forceful sound of southern rock, Lloyd's music radiates a certain energy and style that can only be found in Texas artists.
Celebrate First Friday with some of the best bands around, at one of the best theaters around! General admission starts at $10, standing room only, and ranges up $125 for a cocktail table with four stools. You can purchase tickets as well as donate on Grand Stafford Theater's website.This program was made possible in part through the Hotel Tax Revenue funding from the City of College Station and the City of Bryan through the Arts Council of Brazos Valley.