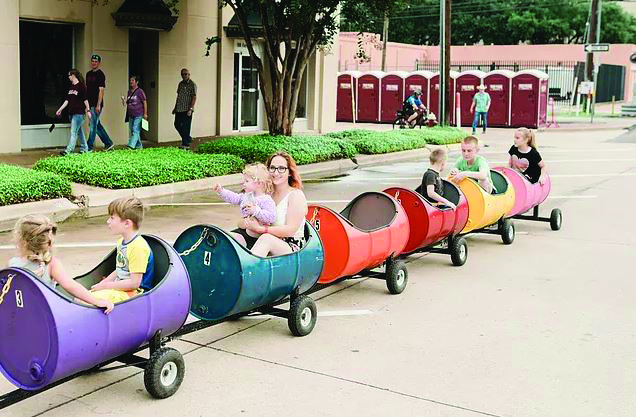 As you're planning family fun this fall season, you might want to add Downtown Bryan's Festifall on your must not miss list! Come on out to historic Downtown Bryan for a day filled with an abundance of autumn activities the whole family can enjoy on Saturday, Nov. 9, from 10 a.m. to 3 p.m.

Children and families will be able to learn something new all throughout the day, with tons of visual and hands-on activities. You can start off the morning of fun by visiting School of Rock's musical "petting zoo," where children will be able to take turns playing musical instruments. Or if you prefer more of a bang, then check out Palmisano's ATA Martial Arts breakable boards through discipline. If you're looking for a more arts and crafts feel, then visit the Arts Council of the Brazos Valley station where kids will have the chance to color a decorative skull in Honor of Dia De Los Muertos.

The TAMU Brazos Valley Injury Prevention Coalition will have an entertaining educational twist with old carnival games played with and then without stimulate goggles, in order to learn what it's like to be under the influence of alcohol and marijuana. If you continue down the educational fun road, then you'll also come across the Twin City Mission Domestic Violence Services station, where kids will learn about building healthy relationships and construct a friendship bracelet with a positive word of their choice. Keep going, and you'll come across the Mathnasium, where children will play a game known as Make Seven. It's similar to connect four, but this time the tiles have to add to seven.Along with these exhibits, there will also be a Chick-Fil-A station, Lemonade Day BCS, moon jumps, all aboard train rides, live performances, photo stations, and much more!

Downtown Bryan's Festifall is free for everyone to attend and enjoy fall activities with the whole family. Festifall will be a place for parents and children to expand their creativity and discover new things about themselves all through the resources in their community! The Downtown Bryan Association has numerous events throughout the year for the public to come out and have some fun.
For more information, https://bit.ly/368ZO8Z