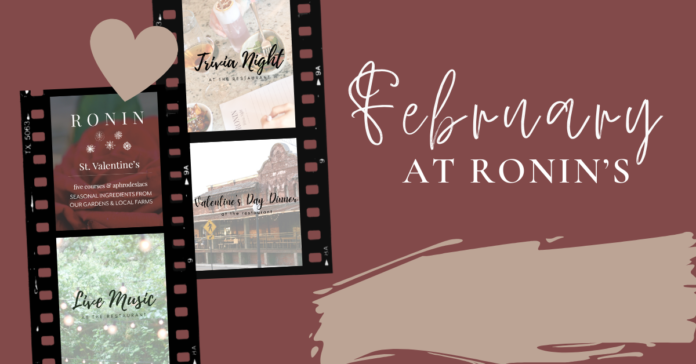 It's February, and Ronin's Farm & Restaurant has lined up a number of events to help you make the month of love memorable!
Trivia Nights Feb. 4, 11, 18, 25 at 7 p.m.
If you're looking for a fun weekly event, Ronin's is running themed trivia nights every single Thursday. The next one will be Thursday, February 4, and the questions will begin at 7 p.m. The theme for the night is Food and Beverage, so get ready to flex your foodie muscles and show off your knowledge! Hosted by Josh Seigal, Ronin's Trivia Night will feature a different theme each Thursday. For example, through the rest of February, there will be Harry Potter, Mardi Gras, and New Girl themed nights.
Moonlight Music Feb. 5, 6, 13, 19, 20, & 26 at 7 p.m.
If you're missing live music, come on out for Moonlight Music on the weekends. Local musicians such as Garrett Snowden, Joey Kipfer, Charlotte Perkins, Shadow Canyon, Love, Zoin, Doc Mojo and Dave Skinner & Rachel Bloem will be playing til 9 p.m. Start off with half price drinks during Happy Hour from 5-6 p.m. and then finish up with $5 bar snacks throughout the evening.
St. Valentine's in the Forest Dinner Feb. 13 at 6 p.m.
If you want to add a little romance, Ronin's will host St. Valentine's in the Forest on Feb. 13, featuring a five course meal with Ronin's usual emphasis on farm fresh ingredients. Be sure to attend if you're in need of a love potion for that certain love of your life as this evening's menu profiles aphrodisiacs.
No worries if it's a little chilly because it will not only provide the perfect opportunity to snuggle just that much closer, but Ronin's also has chimeneas, patio heaters, and blankets for you. Bring your own wine or purchase from the restaurant's wine list. The dinner will take place rain or shine, so dress accordingly.
Valentine's Day Dinner Feb. 14 at 6 p.m.
And if outdoor dining isn't your scene, try out the Valentine's Day Dinner at the restaurant instead. This one will also feature aphrodisiacs, but will be three courses, and you can purchase wine pairings to complement each course.
For all of these events, click here for more info and reservations.