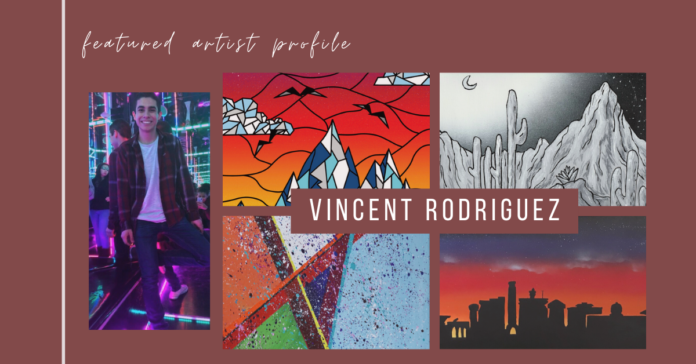 This summer, POV Coffee House, connected to the Stella Hotel in Bryan, has been hosting a Summer Art Showcase in order to highlight local artists. Since his live demo show opening a few weeks ago in late July, the work of local artist and A&M student Vincent Rodriguez has been decorating POV's walls, and we were able to catch up with him to ask him a few questions about his art and his processes.
Rodriguez has been practicing art since his early childhood, saying he was usually caught "doodling anything from airplanes to little animals" in the classroom. But he didn't begin painting until just a few years ago when he decided to spray paint a piece for his living room. He emphasizes that it was never his goal to sell art for living or to make a name for himself, but his friends and family all suggested that he should. Following their advice, he says last summer he launched "what is now Creations by Vincent, a small art business run by commissions." His first works all used the medium of spray paint and featured a childlike whimsicality. He did not, he states, "pick up a paintbrush until late November" last year, but since then, he has grown to love (and to primarily practice) abstract art, and his thirst for learning about new styles of artistic expression is never quenched.
As with nearly all creative enterprises, the 2020 pandemic threw a wrench in Rodriguez's plans. Starting the year off, he became a vendor at the The Local — the weekly artisan market held at the Lake Walk — and also made plans to hang his art on the walls at Lupa's Coffee in College Station. Then, COVID-19 hit and everything changed; he tells me, "no one could go to Lupa's to see my art, and of course, The Local had to be canceled." As people started focusing on essentials and stopped buying his commissions, Rodriguez himself did the same: he moved his art to the sidelines and simply "focused on the rest of [his] semester at A&M." As many artists have attested, Rodriguez labored under a creative slump for a handful of months until he decided to challenge himself by creating "twenty paintings in one month, with five different reoccurring themes, in only 30 days." This project not only lit his fire for art again but also grew his social media presence.
The POV Art Showcase, where Rodriguez's work is currently hanging, was launched with something he had never done before: a live demonstration of his artistic process. He mentions he was, understandably, "nervous, but practiced the whole day before to work on timing and to just relax." Thankfully, the show itself "went flawlessly," and he received tremendous support from friends and strangers alike who had "shown up and expressed interest," and this whole experience has been a highlight of his young, artistic career. Moving forward, Rodriguez plans to participate in The Local's weekly market, returning in September with updated social distancing guidelines, and he plans to "actively create on a schedule so that [his] audience can see more and view behind the scenes with videos and more art!"
If you're interested in checking out Rodriguez's work, head over to POV Coffee House, where his art will be hanging for the rest of the month. Additionally, he sells paintings, prints, and stickers through his website, which you can check out through this link: https://bit.ly/3h03EWX