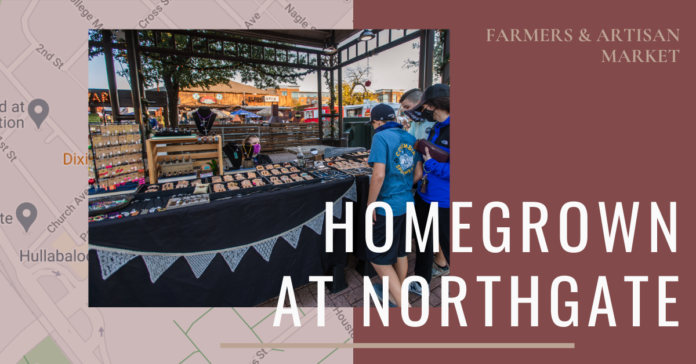 The place to be this Sunday afternoon—Northgate! That's right, who would've thought Northgate would be busy during the daytime? Well, this Sunday, the bar district will be filled with local BCS farmers and artisans for the inaugural Farmers & Artisan Market hosted by Visit College Station on Sunday, April 11, from 11 a.m. to 3 p.m.
Needing some fresh produce? Or local honey? Maybe you're looking for some new homemade soaps? Well, you can get all that plus more this weekend! And of course, there will be many items you find that you didn't know you needed!
Supporting local businesses has always been important to the BCS community, but now more than ever, with the pandemic's struggles, and we know how excellent BCS is in helping fellow community members.
If you sell handcrafted items or know someone who does and would like to participate in Homegrown at Northgate, feel free to reach out to Visit College Station for more information.
Bring your friends for a day out to enjoy the beautiful spring weather! You and your family can join the fun after church. Don't forget to bring your dog too! They'll love going for a walk and all the yummy smells!
While spending the day checking out different booths around Northgate, you're bound to get hungry, and you'll already be in a great location to grab a bite to eat. Enjoy a gorgeous Sunday with your favorite people and furry friends while supporting local businesses!
Sources: