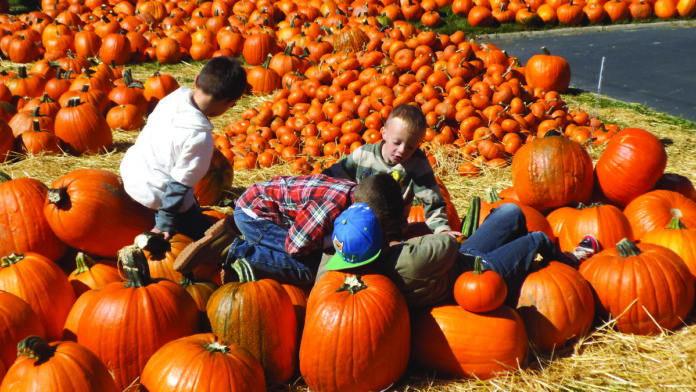 Despite the lingering 90 plus degree weather, fall has officially arrived. It may not be time to whip out the sweater collection just yet, but it is socially acceptable to start fall decorating and festivities. Since you can't have fall without pumpkins, you'll probably be on the lookout for the best places to pick pumpkins and take pumpkin pics. Lucky for you, the Bryan-College Station area has lots of great local options for your search.

If you're looking for one day of pumpkin filled fun, check out Pumpkinpalooza at Millican Reserve on October 20 from 11 a.m.-4p.m. You can browse Millican Reserve's assortment of pumpkins, enjoy pie eating contests, and join in on pumpkin chunkin', which involves catapulting pumpkins into the air. The event supports local youth and family outdoor programs. For more details, you can visit the Millican Reserve Facebook page.

The Farm Patch Market Pumpkin Patch and Petting Zoo will be opening in October. At the Farm Patch, you will have opportunities to take photos with cutouts, pet animals from secured pins, navigate a small hay maze and choose from lots of pumpkins. The Pumpkin Patch will remain open until November 1. Though a definite opening date is still to be determined, The Farm Patch is a perfect photo destination for children and adults alike. For more information, you can visit The Farm Patch Facebook page.

The Bryan College Station Habitat for Humanity has two build groups, Aggie Habitat and Faith in Action, that each host pumpkin patches in Bryan and College Station each October in an effort to raise funds to sponsor and build Habitat homes for families in the community. The pumpkin patches sell over 3,000 pumpkins every year, so will have no shortage of pumpkins to peruse and purchase.

The Faith in Action Pumpkin Patch in Bryan will be located at 2301 E 29th St. and will remain open from Monday, September 30 through Thursday, October 31. Sunday through Friday, the pumpkin patch will be open from 12 p.m. to 8 p.m., and from 10 a.m. to 8 p.m. on Saturdays.

The Aggie Habitat Pumpkin Patch will be located at 220 Rock Prairie Rd, and will open on Saturday, September 28 until Thursday, October 31. Monday through Friday, the pumpkin patch hours will be 12 pm. to 8 p.m., Saturdays will be from 8 a.m. to 8 p.m., and Sundays will be from 10 a.m. to 8 p.m.

Habitat for Humanity will also be open to schedule class Field Trips, pumpkin carving socials, and volunteer opportunities. Inquirers can send requests to events@aggiehabitat.org

Lastly, Lake Walk Town Center will host a pumpkin patch during The Local Artisan Market on Tuesdays in October from 4 p.m. to 7 p.m. Proceeds from the patch benefits the Bryan-College Station Habitat for Humanity. Though Pumpkins are only available for purchase Tuesdays, the pumpkin patch is open any time, and you can share your photos using #lakewalktx or tagging @lakewalktx.