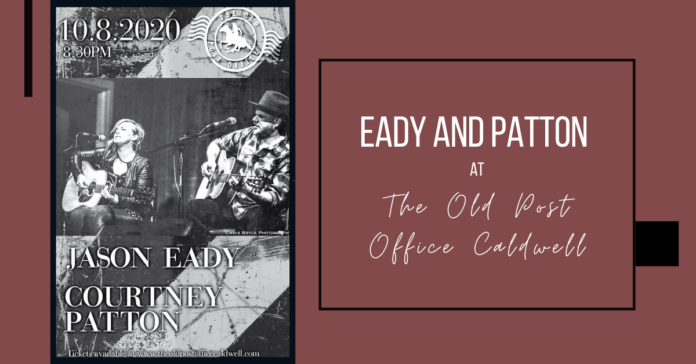 Two are better than one with this power couple! Don't miss out on seeing Jason Eady and Courtney Patton in Caldwell, Texas at The Old Post Office on Oct.8. The shows start at 8:30 p.m., but make sure to get your seat early because this is a performance you don't want to miss.
While Jason Eady and Courtney Patton are a married couple, they are also individual singers who bring their own personal flare to the country genre. 
Courtney Patton describes herself as a storyteller, and says her latest album, "What It's Like to Fly Alone," is "full of songs about people who have had to 'fly alone' in some way, whether through grief, loss, life choices, addiction or love." Her voice pulls at your heartstrings with each song, giving the country singer a way to express previous trials and tribulations from her own personal experiences.
Not only has Patton performed alongside her husband, she has also shared the stage with country-folk artists like Walt Wilkins, Cody Jinks, and Bruce Robison, to name a few. Patton has performed throughout the United States as well as Canada and Europe.
Native to Jackson, Mississippi, Jason Eady is all about bringing the grittiness back into the country music scene. Eady has been writing his own songs since the early age of fourteen, and his latest album "I Travel On" showcases his talent of songwriting with each heart-felt song. Eady enjoys songwriting, saying that "the longer I've done this, the more I've realized that the real joy comes from the process rather than the end goal. Now it's about getting better and finding myself with every album."
Originally singing blues-infused Americana, Eady transitioned into the country genre and has received major acclaim for his last two albums for his "ahead-of-the-curve take on classic country," says Billings Gazette.
While independent in their musical craft, the couple did do one album together titled "Something Together" in 2017. The acoustic album blends both the storytelling voice of Patton and the lyrical genius of Eady to tell a story of parenthood, life troubles, and love. The album showcases just how well these two singers perform together, and you're sure to enjoy this unique pairing in the intimate setting of The Old Post Office. Why not make it an evening and have dinner first?
Tickets for the show start at $20 and can be purchased at The Old Post Office website.