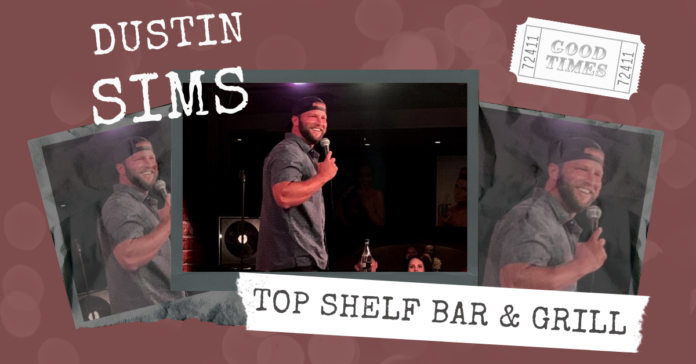 Looking for a way to spice up your Sunday night routine? Come out to The Top Shelf Bar & Grill on Sunday, June 6 at 7 p.m. to catch popular Youtuber and comedian Dustin Sims perform one of his famous standup routines!
Alabama native Dustin Sims is known for his mixture of storytelling and comedy presented through short videos across platforms such as TikTok. Mostly centered around Sims' everyday experiences with his family, his videos mix the eccentric with the relatable and are sure to crack you up and make you smile through the rest of your day. Known for his "Talking to Myself" videos, this particular series highlights Sims' creative comedic talents as he is shown battling with his inner self-consciousness through random situations.
With 745k followers on Facebook, Sims has made his presence known across the nation through his standup performances and viral videos. This year, Sims has made a big return getting back on the road full-time as he is currently on a tour that spans 20 cities through the eastern half of the United States with a couple of sold out dates already. After his performance in Bryan, Sims is set to hit the stage in Huntsville, Alabama for his next date: just a little over two hours away from his hometown of Oxford, Alabama.
Tickets to see Dustin Sims at The Top Shelf Bar & Grill in Bryan can be found here. General admission tickets are $15 while meet & greet packages can be purchased for $30; both a seat and a meeting with Sims are included with the package. We all could use a laugh, so catch Sims' performance to see this comedic mastermind in person!
Sources:
Dustin Sims Live: Presented by Jesse Peyton Comedy at Top Shelf Bar & Grill in Bryan College Station, TX
Country music-themed restaurant and live venue opening in Post Oak Mall