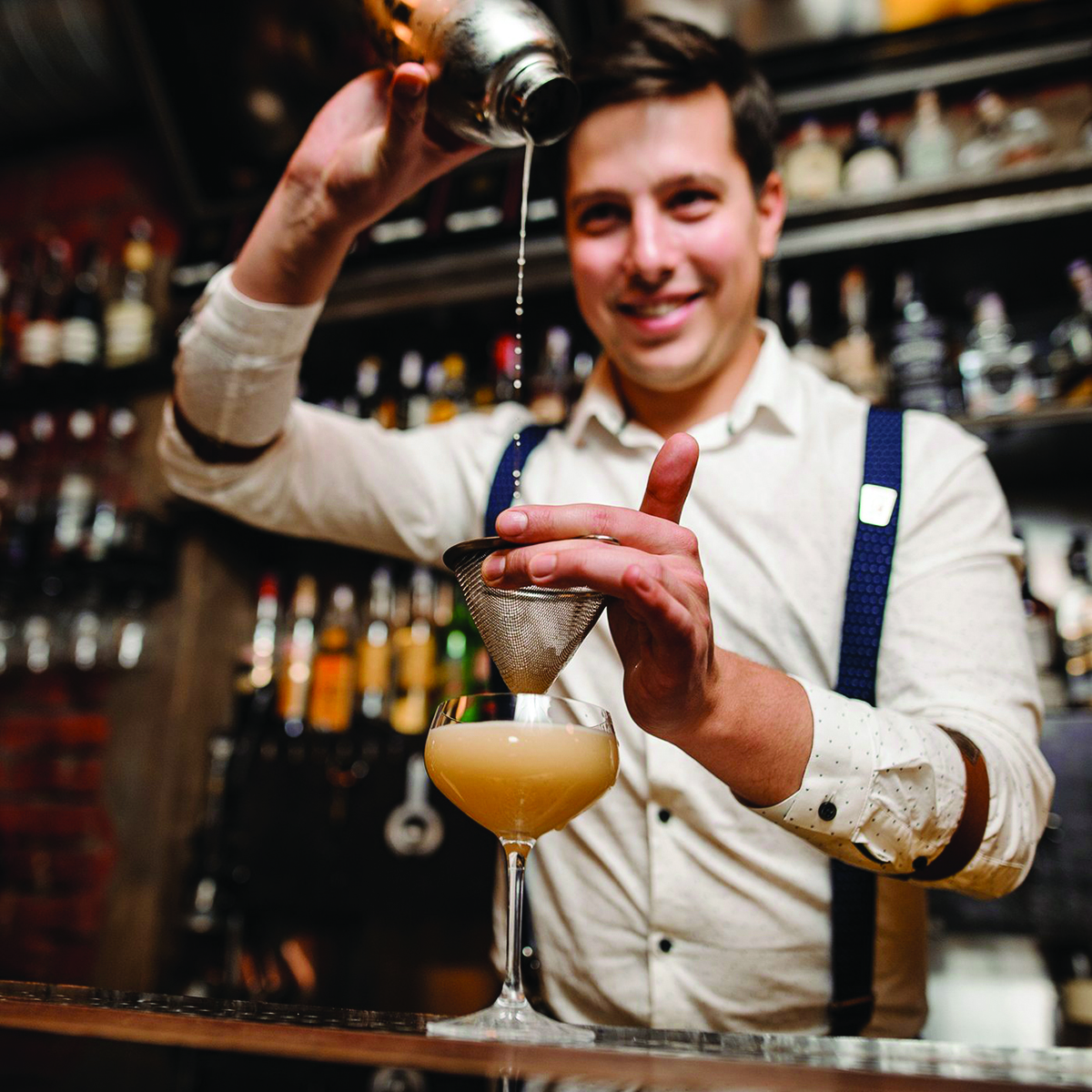 The Roaring Twenties were called roaring for a reason—flappers, jazz bands, and stiff drinks. Now, the 5 Knocks Speakeasy in Bryan has all of that in spades and takes you back in time to provide a peek into this underground part of American history.
Bryan's very own speakeasy is underground, hidden in the basement of the LaSalle Hotel. To locate it, owner Dustin Batson says to take the "elevator and hit B," then "turn left." At the end of the hallway, there's a door, next to which a sign reads, "CLOSED FOR VIOLATION OF NATIONAL PROHIBITION ACT." To enter, one must follow the requirement mentioned in its name: knock five times. After flashing your ID up to the caged, square window, the door opens and you'll find yourself thrown back in time to almost a century ago.
The atmosphere is swingin' and forbidden: leather couches and live music fill the underground space, replicating the lively environment that needed to hide in basements, and could only be entered through back doors after the strict enforcement of the 18th Amendment. The 5 Knocks staff furthers the sense of going back in time by wearing costumes. Baston says "the girls dress like flappers, and the guys dress era-specific."  
The main attraction is the cocktails, which reflect the historical tastes of the Prohibition era. While 5 Knocks has a full bar, Batson emphasizes its cocktail selection. Bartenders will mix up timeless classics such as an Old Fashioned and a Tom Collins, but 5 Knocks also offers uniquely crafted beverages such as the Bee's Knees—the speakeasy's most popular drink—that combines gin and "homemade honey syrup" with the acidity of "freshly squeezed lemon juice." Baston recommends the Last Word because it features his favorite liqueur, green chartreuse, that is then combined with gin and "freshly squeezed lime juice."
The speakeasy is open on Thursday, Friday, and Saturday evenings from 8 p.m. to 2 a.m. It often fills to capacity by 9:30 p.m., so come early enough to secure a spot. Thursday nights offer a popular burlesque performance. On Wednesdays, the space also offers a comedy night by Olly Iconix.
Batson owns both the 5 Knocks Speakeasy and Downtown Elixir and Spirits, which are run independently of the LaSalle Hotel. Downtown Elixir and Spirits is a Cajun restaurant where one can also enjoy an alcoholic beverage. Since the speakeasy opens later, at 8 p.m., Batson suggests that guests enjoy "Cajun food, a cocktail or beer, then wander down to 5 Knocks."
Come visit 5 Knocks Speakeasy on a Thursday, Friday, or Saturday evening for a drink and a jump back into the time of Gatsby. This hidden bar is an ode to the Jazz Age—the music, the costumes, and, of course, the cocktails are all practices that temperance touters would surely protest.