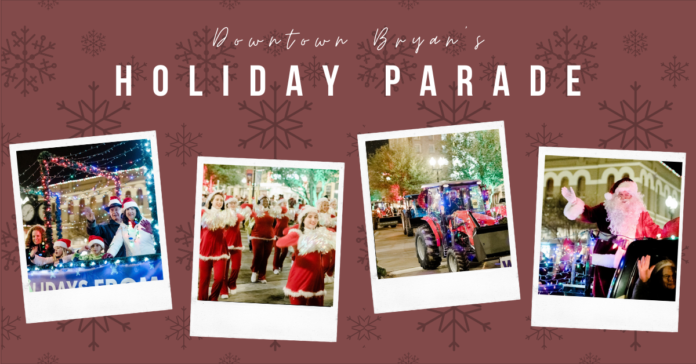 The holidays are in full swing here in BCS! Destination Bryan is hosting another event to keep you in the festive mood all season long with their Downtown Lighted Holiday Stroll on Friday, Dec. 11 from 6-9 p.m. Like most of 2020's events, the parade has turned the pandemic corner so to speak—but the holiday fun isn't going anywhere!
Instead of their traditional lighted parade, Destination Bryan will have three separate blocks of Downtown Bryan closed off, and the floats will be parked in the closures. Guests can stroll through downtown to view these dazzling lighted floats as well as take in the displays on storefronts for the holiday window decorating contest among local businesses. Vote on your favorite displays while you do some holiday shopping downtown!
Destination Bryan's PR and Communications Manager Abigail Noel says that there will be a new addition to the Holiday Stroll this year—Destination Bryan has partnered with Bryan Broadcasting to put together a holiday music program for the evening on the Candy 95 hit music station. Several radio station cars will be parked around the floats so you'll be able to listen while you stroll.
Restaurants and retail will be open late on the night of the event. Additionally, a video of one of Ballet Brazos's previous productions of "The Nutcracker," including principal dancers from the New York City Ballet, will be played at The Palace Theater downtown, starting at 6 p.m.
Noel says the Destination Bryan is happy to be hosting wonderful holiday events for the community like the Downtown Lighted Holiday Stroll and Lights On! that took place on Nov. 16, and that in spite of the pandemic, Lights On! was a phenomenal success. Everyone certainly seems to be loving the chance to celebrate the holidays, get out and about, and enjoy some free and safe fun!
Come on out to the Holiday Stroll event and drop off your letter to Santa in the special mailbox at the Carnegie History Center Plaza. You'll also find Santa mailboxes at Lake Walk Town Center and the Brazos Valley Museum of Natural History. Download an adorable free template for your letter here.
To learn more, visit the Downtown Lighted Holiday Stroll event page.
Sources:
Interview with Abigail Noel, Downtown Bryan Association Marketing Coordinator