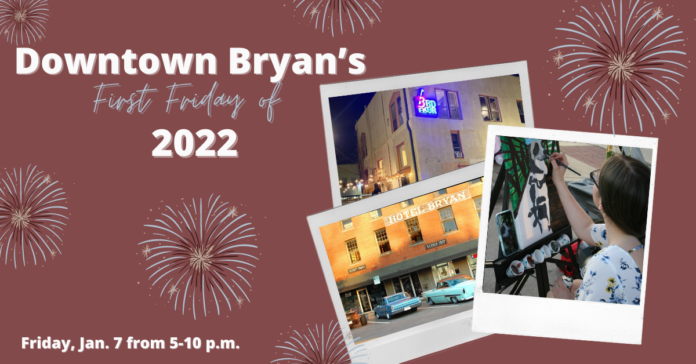 The holiday season might be coming to a close, but that doesn't mean the fun family activities must go with it. After all, what's better than kicking off the new year at Historic Downtown Bryan's First Friday? Come out on Friday, Jan. 7 from 5-10 p.m. for an evening full of art, live music, and family friendly activities.
Every month on First Friday, the streets of Downtown Bryan transform into an array of interactive activities and shopping. This month, enjoy a trip down memory lane brought to you by The Hudson Barber Emporium's Classic Car Show on Main Street. Or browse the delectable locally grown fresh produce and handmade goods at The Brazos Valley Farmers' Market. Wander the streets to find yourself immersed in live entertainment options such as LIVE!art, an art demonstration group for up-and-coming artists, and enjoy live music from numerous musicians performing on the street corners.
Not to be missed are the dancers from Brazos Valley Belly Dance performing in front of Caffé Capri and Chess Downtown set up near The Attic & Rabbit Hole Antiques. First Friday isn't just outside either. Stroll in to your favorite local restaurants and shops as many businesses will stay open late for this night every month.
The Brazos Valley Farmers' Market connects local farmers directly to Brazos Valley consumers. They're passionate about educating the public on the benefits of eating locally produced food. After all, who doesn't love a juicy pear freshly plucked off a tree or a lemon lavender sugar scrub infused with soothing coconut oil? Check it all out along Main Street in front of the Queen Theatre from 5-9 p.m.
As for music to enjoy, you'll have your choice! Catch Caroline Lobb near the Carnegie History Center, Carter Creek Pickers near the Varisco Building, and Grifters & Shills near ACME Glass.You'll find Garrett Snowden live at Ronin Farm & Restaurant from 7-9 p.m., and you can finish your evening with Rochelle & The Sidewinders' performance at 3rd Floor Cantina from 10-11:30 p.m.
Returning to First Friday as a local favorite, Ricky Montijo will take on 26th street from 6-9 p.m. with his distinctive sound that's always a crowd favorite. His performances invite the audience in to explore the depths of their own gritty, soulful blues through his eclectic mix of soul, rock, Latin, reggae, pop, EDM, and world music.
Kick off the first weekend of 2022 with family, friends, and the Bryan/College Station community. For more information on First Friday, please visit the Destination Bryan Website.