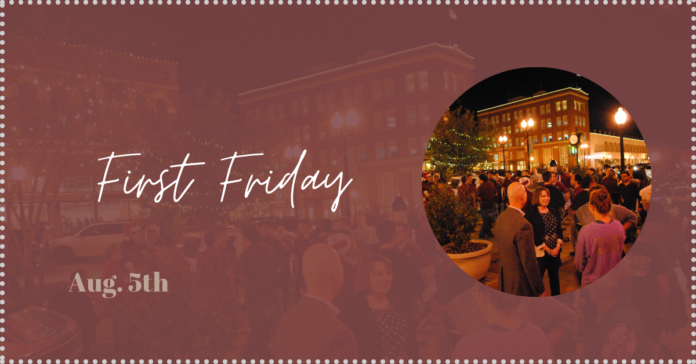 Downtown Bryan's First Friday is wrapping up the summer festivities on Friday, August, from 5-10 p.m., with live music, performances, art demonstrations, one-of-a-kind events, and activities you won't want to miss!
What better way to begin your fun Friday night than to avoid the parking battle struggle? Use the complimentary shuttle to get directly to Downtown from Blinn College. You can begin at Blinn at the parking lot next to Building A off of Villa Maria and catch the return ride at Roy Kelly Parking Garage. The shuttle will run continuously from 5:30 to 10 p.m.
When you and your family enter downtown, you'll be welcomed by local art, chic old vehicles, and fresh produce. From 5 to 9 p.m., the Brazos Valley Farmers' Market will be in front of the Queen Theatre selling locally produced food and handmade items. Be sure to visit the Classic Car Show at the Hudson Barber Emporium to see some vintage vehicles and check out the Art979 Art Loop—a dedicated area that gives local artists an opportunity to share their talent with the community.
While you're perusing the various art and goodies downtown, take advantage of special offers by generous vendors for the whole gang! Busha's Custom Cookies will be offering free samples of their cookie of the month and a free drop cookie with any purchase of $10 or more. Voices For Children will be offering a sweet treat for anyone who stops by from 4 p.m. to 7 p.m. The Queen Theatre and The Crown Bar will be open from 11 p.m. to 12 a.m. serving delicious food and specialty drinks. The Tipsy Trinket will be offering "Friday Flights" for $10 and will be debuting a new food item just for First Friday. Visit and try out their brand new croissant paninis too! Lonestar Meadery is finally opening to the public! Enjoy raffles, mead and more from 1 to 10:30 p.m. First Friday is the start of Texas Rose Boutique & Catalena Hatters big summer blow out sale. Save on store wide apparel, footwear, jewelry, and more!
For your entertainment of the evening, take in a free concert at The Grand Stafford Theater, this month featuring LVVRS and Aspen St. Doors open at 7:30 p.m. with music starting at 8 p.m. Pop/Rock not your style? Enjoy Happy Hour with half-off cocktails & spirits from 5 p.m. to 6 p.m. at Ronin, with live music from 7 p.m. to 9 p.m.
Additional parking will be available in the Roy Kelly Parking Garage for a First Friday rate of $5 and accessible parking will be available in the lot next to Papa Perez from 4-10 p.m. on Bryan Avenue.
For more information about First Friday, its sponsors and participants, visit the Destination Bryan website.