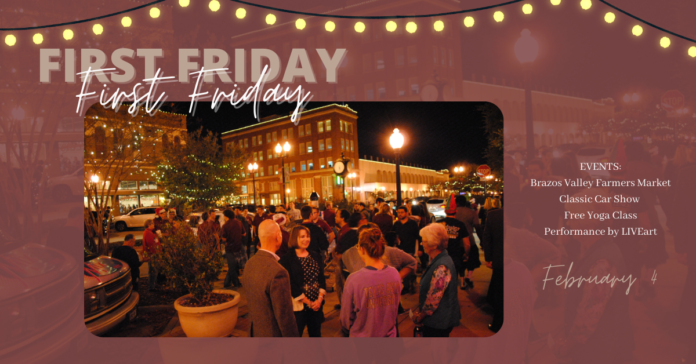 It's the best time of the month! Downtown Bryan's First Friday is Feb. 4 and you won't want to miss out on all the great vendors, entertainment, and food.
Each month, on the first Friday, historic Downtown Bryan hosts special events and performances. This tradition is a beautiful part of BCS and if you've never been, now is the time to join in. Bring the whole family and all your friends because there'll be plenty to do for everyone!
One of the staples for the evening is always Brazos Valley Farmers Market, which takes place from 5-9 p.m. Located on S Main, the street will be closed to traffic and so you can wander the stalls and browse all the locally grown produce. From jelly to fresh fruits to homemade goods, take advantage of the great vendors and help support your local small-town farmers.
Located on the same street, just outside of Hudson Barber Emporium, take in the classic car show. You'll find antique and very cool cars to admire and take pictures of. But before checking out the market and car show, join Studio Yoga BCS for a free yoga session from 5-6 p.m. Studio Yoga makes working out fun and since it's free, there's no reason not to! Head to their website to meet the wonderful staff and reserve a spot to work out this first Friday.
Just down the street a bit on 26th outside the Village Cafe will be a performance by LIVEart, a local group of talented artists. LIVEart is for all ages, and the kiddos will love the art projects. Grab a coffee and a snack at The Village and enjoy the demonstration.
This month, there will be no concerts or special events at The Palace due to renovations, but prepare for a new and exciting change coming to downtown!