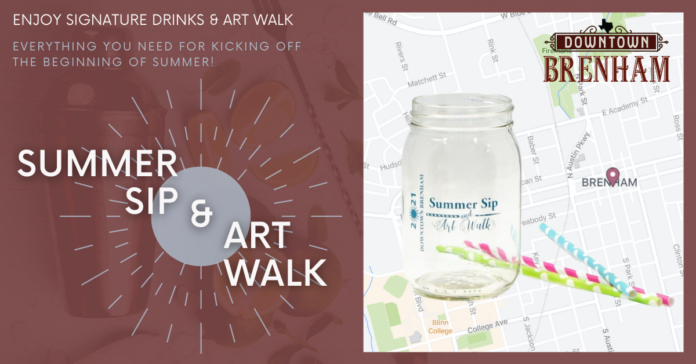 Imagine the chill of a slushy frozen margarita with just a touch of salt on a hot summer day, the tangy flavors of the drink dancing on your taste buds. Now add the company of good friends along with looking at gorgeous artwork, and you've got a great idea of what Downtown Brenham's 2021 Summer Sip & Art Walk will be like on June 12 from 3 to 7 p.m.
Wandering along the quaint streets of Downtown Brenham, you'll have the chance to sample various specialty drinks, including sangria, hibiscus punch, and margaritas from local merchants while admiring an array of artwork displayed in Historic Downtown Brenham. And of course there will be snacks available to sample!
Your ticket for the event is the 2021 Summer Sip collectable glass, purchasable before the event for $25 or on the day of for $35. You can buy the glasses online now or the day of at one of 28 participating local businesses found on the Downtown Brenham website. When you arrive at the event, go to the Washington County Courthouse gazebo to pick up your glass along with a map of all the vendors, a shopping bag and wristband.
Be sure to fully enjoy the day, and as the sun begins to dip into the horizon, the fun will continue with a performance by the Texas country blues group Shinyribs at 8 p.m. in Hasskarl Auditorium in Brenham's Barhill Center on West Main Street. Ticket prices begin at $40 and are sold separately from Summer Sip tickets.
Everything you need for kicking off the beginning of summer can be found at Downtown Brenham's Summer Sip & Art Walk!
Sources: https://kwhi.com/summer-sip-and-art-walk-coming-to-downtown-brenham-june-12th/
https://downtownbrenham.com/172/Summer-Sip-Art-Walk
http://www.brenhambanner.com/news/summer-sip-and-art-walk-set-for-june-12/article_94c54240-e2f4-5b71-8b86-ea306074218f.html
https://www.facebook.com/events/downtown-brenham/summer-sip-and-art-walk-2021/269932994784468/