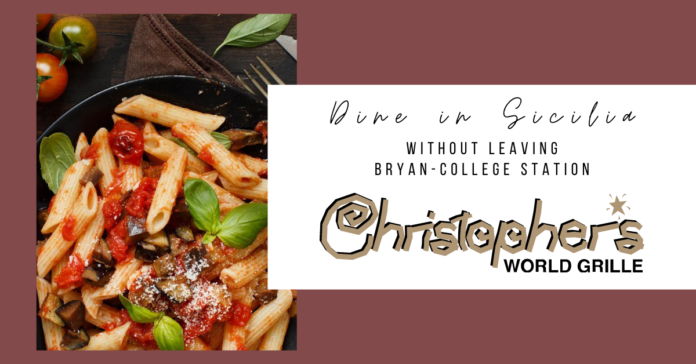 It's safe to say we've all got the travel bug right now. While you might not be able to hop on a plane to Europe today, how about trying some incredible Sicilian food right here in the Brazos Valley? This month, Christopher's World Grille is hosting their next 'Dine Around the World' event featuring foods of Sicily on Friday, Aug. 28 with a reception at 6 p.m. and dinner to follow at 6:30 p.m. in the 100 year old ranch house turned restaurant in Bryan. WIth the purchase of a ticket for $110 per person, enjoy a multi-course Sicilian meal paired with select alcoholic beverages.
Christopher Lampo, CEC of Christopher's World Grille, is a well traveled chef with experience working all over the world. Before opening his own restaurant in 1999, Lampo spent his time working in respected establishments in Boca Raton, Houston, and London, working as a private luxury yacht chef in Europe, and cooking for celebrities such as Mick Jagger, Robert De Niro, and Denzel Washington. Lampo uses his experiences and well-worn passport to inspire the cuisine at Christopher's World Grille.
Christopher's has hosted their 'Dine Around the World' event many times now, highlighting cuisines from all over the world in the past, including destinations such as Greece, France, and even featuring a Mardi Gras theme once. This month's event spotlights exceptional eats from Sicilia, the largest island in the Mediterranean Sea.
Everyone in attendance has the opportunity to experience everything on the menu for the night—several courses of Sicilia's finest. Kicking it all off is an antipasto platter paired with tomato focaccia, sausage bread, and olive scaciati, followed by a breaded risotto dish and an arugula salad with lemon, olive oil, and parmesan. The night continues with dishes of penne pasta, a cod filet and seared shrimp, and stuffed veal. Cap off your culinary foray to the Mediterranean with a traditional Sicilian cheesecake for dessert. Vino is to be announced at the event.
You can purchase tickets on Christopher's website, by phone or email. Tickets must be purchased in advance and can be cancelled one week prior to the event for a full refund. Unfortunately, menu substitutions for dietary restrictions are not available.
Sources: