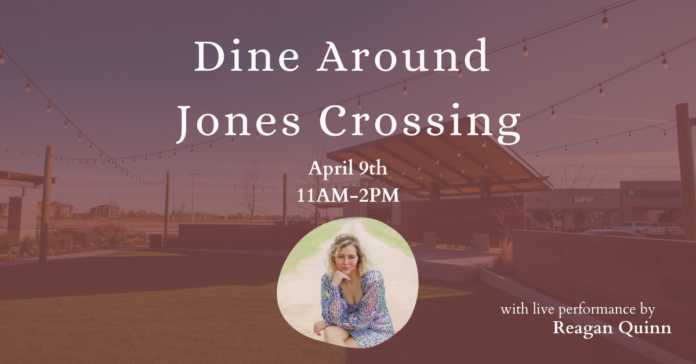 Grab a friend and take them with you to Jones Crossing this Saturday, April 9, from 11 a.m. to 2 p.m. for their Dine Around Jones Crossing event. It's the perfect opportunity to try something new – whether it be food and drink samples, shops or music! Texas country musician, Reagan Quinn, will provide live background music for the event as well as photo opportunities.
Jennifer Kingsbury, Marketing Coordinator of Visit College Station, says that Bubblelloon will be present so that families can take fun and unique photos. "We're excited to host this event, especially on family-weekend!" says Kingsbury. "Jones Crossing has so much to offer and we really want everyone to experience that, so this is a perfect opportunity and another way to give back to our community."
Conveniently located two miles away from Texas A&M University, Jones Crossing provides those in the heart of A&M's community with a multi-use retail center. After you're finished with the event, you can get some grocery shopping done at the H-E-B located right across the street.
Stroll around Jones Crossing and take advantage of the variety of businesses offering promotional items and special discounts. Other venues range from food to beauty. If sweet treats pique your interest, Crumbl Cookies and Smoosh will be ready for your arrival. Arrived low on energy? Stop by Zero Degrees for a coffee with boba. Threads Boutique is a unique clothing shop that many BCS residents love to visit, and it'll be open to those who have a pass. Mod Pizza, Chicken Salad Chick, Another Broken Egg, Jersey Mike's, and Oishi Sushi Asian Fusion are available to satisfy your appetite, and Buff City Soap will save the day if you're in the market for a new shower experience.
Once you purchase tickets online, you will receive a mobile pass that will be used for admission. Children 10 and under get in for $8 and everyone above that for $15. The profits received from ticket sales will benefit Aggieland Humane Society.
Try something new! Explore Jones Crossing this April.