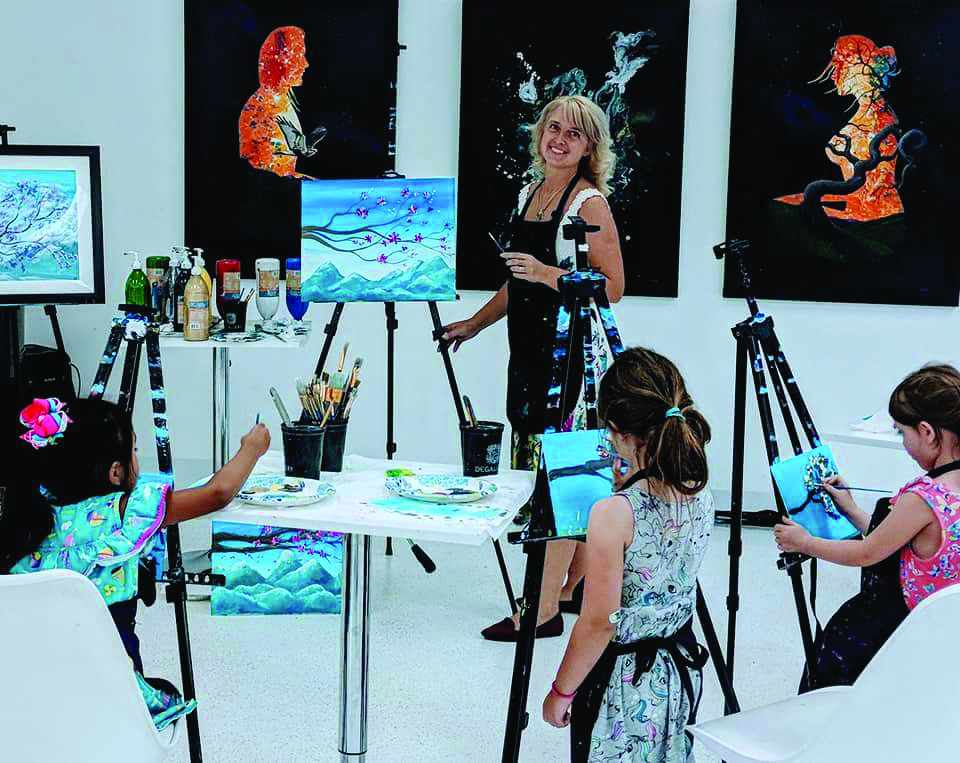 Pablo Picasso famously said, "All children are artists. The problem is how to remain an artist once he grows up." The creative imagination of youth tends to disappear with age. For some kids, art was presented just as a hobby, only to be practiced in leisure. As a result, advanced study or training in art was not much of an option. Others lost interest in artistic pursuits after being told that artistry is not a lucrative career, coupled by the pejorative phrase "starving artist." Fortunately for Bryan-College Station residents, Dr. Dary Dega didn't allow adverse rhetoric and other hardships stop her from maintaining her passion of art from childhood.
Hailing from Moscow, Russia, Dr. Dega was working for the Russian health department when she packed up and moved to the US after her husband's acceptance of a physics professor position at Texas A&M University. Shortly after the move, Dr. Dega looked for local art classes for her children to take, but was saddened by the limited and expensive private lessons available. From this misfortune came the idea of opening her own affordable art studio for all ages of the community.
Dr. Dega's transition from medicine to art in Aggieland was not an easy one. She says the art business in Texas is "crazy hard" because of residents' adoration for sport and physical activity. "The culture here is more for football and other games," she says. But somehow, Dary was able to catch the attention of sports fanatics and art lovers alike.Though lacking American contacts and initially speaking very little English, Dr. Dega launched Degallery, a studio where professional artists can showcase their work at exhibitions and concerts and where novices can take classes and workshops to enhance their skills. Classes and workshops are developed by Dr. Dega herself, who is an art school graduate. Clients are welcome to pitch ideas of what they'd like to create. Dr. Dega then creates a step-by-step process of how execute the client's vision by giving tailor-made instruction to participants. This gives each class distinction, as she wants "the experience to be unique for everyone." At the end of each session, participants leave with their own matchless piece of artwork.
Dr. Dega is proud of the inclusivity of Degallery. "I've had kids who are two and three years old take classes here," she boasts. In addition to the wide age range and caliber of clients, Degallery offers classes at affordable rates. The space is also accommodating for special events and celebrations, such as corporate team building events, bridal showers and birthday parties.
Currently, Degallery showcases work from Bryan painter Emily Laughlin in an exhibit entitled "The Subjectivity of Precision." In this exhibit, viewers are encouraged to contemplate the "subjectivity and the comprehension of intent through a personal lens" by viewing and purchasing "visual perception of monochrome and color, paint and pen" in her pieces.
Delve into the creativity of your youth by taking a class or workshop with Dr. Dary at Degallery. Schedule your appointment at https://www.degallery.us/