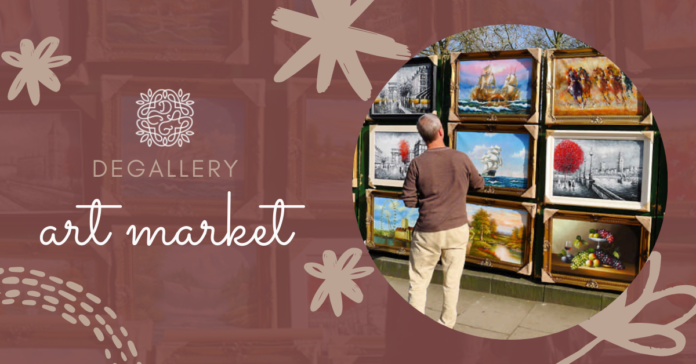 Looking for a fun and interesting way to spend a weekend morning this summer? Degallery's First Saturday Art Market is the perfect place to be. Founded by Dr. Dary Dega, Degallery has become one of the best spots for aspiring artists of all ages in Brazos Valley to learn and create. For those of us who aren't so talented though, the First Saturday Art Market offers a chance to browse and buy works from local artists.
Dr. Dega, who came to College Station from Russia, got her inspiration for the art market from similar events she had attended in Europe. "This is a very popular event around all Europe, [that] helps the local community's unreached culture, supports local artists, and promotes tourism," she says. "After the Degallery moved to a new location, the dream became a reality, because now we have an excellent open large place with a big parking lot, a green beautiful square outside for vendors, and a gazebo for live music. Everything that we need to create an art event and help our community."
The event first began seven months ago, and the number of visitors has increased since, with the most popular days being the holiday themed markets. Dega says that the number of vendors can range anywhere from 9 to 25, with each individual artist displaying a different number of pieces in varying mediums, from paintings to sculptures and even jewelry. Most of the artists are either local to Bryan-College Station or come from nearby cities like Austin and Houston. Above all else, she focuses on helping local artists. "My goal is to help artists and talented people because I know how hard it may be for a lot of artists to find galleries and places to display and sell artworks," says Dega.
The next First Saturday Art Market will be on June 5 from 9 a.m. to 3 p.m. at the Degallery Square on 930 North Rosemary Drive in Bryan. If you can't make this one, be sure to mark your calendar for July 3 and August 7 from 9-12. Artists looking to sell their work at the upcoming markets can register here. Cost in July & August is $20 for a 10×10 space, and you can rent a tent from Degallery for an additional $30. Attendance is free, and in addition to the art, the event will also feature live music and local food trucks.
Sources: https://degallery.us/for-artists/first-saturday-arts-market/
https://degallery.us/about-us/