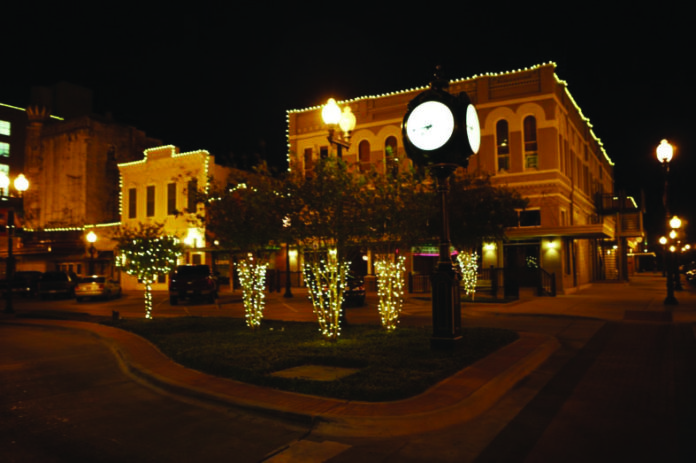 First Friday in Downtown Bryan is the premier nightlife event destination for BCS, and coming around again in December, this special event will draw a crowd of more than 5,000 people of all ages and inspire them with a touch of holiday magic!

Even if you're a First Friday regular, according to Abigail Noel, Marketing Coordinator for the Downtown Bryan Association, this one can't be missed! "In December," Noel says, "First Friday is very much holiday focused, with all the trees wrapped in lights and the decorations up. And we've got two big Christmas trees, one in Sale park and one at the roundabout of Main and 23rd."

There will be plenty of performances to attend during the evening, from the Queen Theatre hosting the Bryan High theatre department's "A Christmas Carol: A Live Radio Play" at 6:00 p.m. and Bryan ISD school orchestras and choirs performing at the Palace Theater, also starting at 6:00 p.m.

And as usual, there's the free concert at Grand Stafford Theater, this time featuring local bands The Fox in the Ground, an indie band whose Facebook profile states they are "as sad and foxy as the name implies. We're fun at parties" and Pardon Our Mess, an indie-punk band. Doors open at 7:30 p.m. and the music starts at 8:00 p.m.

First Fridays are always fun, but the December event is extra special. Noel says, "Everybody is in the holiday spirit because it's all so festive. The business' windows are decorated for the holiday window contest, and the official judging happens during First Friday, contributing to the excitement. Many businesses serve hot cocoa or offer a Christmas special."

With no chain businesses in sight except Subway, First Friday in Downtown Bryan boasts a uniqueness that can't be found anywhere else. The monthly event began with Greta Watkins of The Frame Gallery, "mother of First Friday," who in 2005 decided she wanted to increase downtown Friday night traffic. Beginning with events such as jazz nights to showcasing art, First Friday became the Brazos Valley staple it is today.

Starting at 4 p.m., 26th Street between Main St. and Carnegie Alley will be closed, as well as Main St. from 26th Street to 28th. Free parking is available on the streets, however it may be difficult due to closures and large crowds. Thus, there will also be parking available at the Roy R Kelly building and parking garage.

Celebrate the season with this extra special holiday night out in Downtown Bryan!
For more information, visit http://bit.ly/35C1tTh.