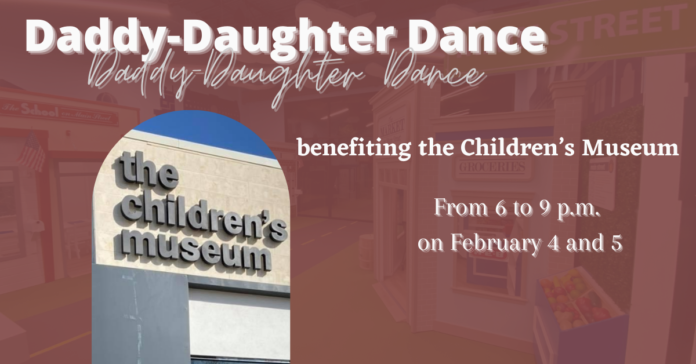 Valentine's Day comes early this year for the little girls who get to spend a special, dressed-up night out with their original valentines at the Daddy-Daughter Dance benefitting the Children's Museum of Brazos Valley. From 6 to 9 p.m. on February 4 and 5, The Stella Hotel will transform itself at the fancy dinner and dance for daddy-daughter duos of all ages.
This year, the dance floor is bigger than ever so that you can swing, dip and slide freely and safely, and by the time the night is over, you'll walk away with a did-it-yourself decorated tote bag, and photo booth photos to show off your silliest faces, and full bellies from the dinner, snacks and dessert. You can even have formal portraits made to capture your dazzling looks!
The Children's Museum recently relocated to ​​4114 Lake Atlas Drive, and are continuing to recover from the difficulties of the pandemic. The museum aims to offer interactive learning for children of all types and includes creating robotic cars, dyeing fabrics, and exploratory toys designed for creative play.
Get your tickets soon to reserve your spot at this limited-capacity event. Masks are encouraged for all attendees. General tickets cost $160 per duo, with a $30 cost for each additional daughter, and for members, it's $135 per couple. You can purchase your tickets on the Children's Museum's website.