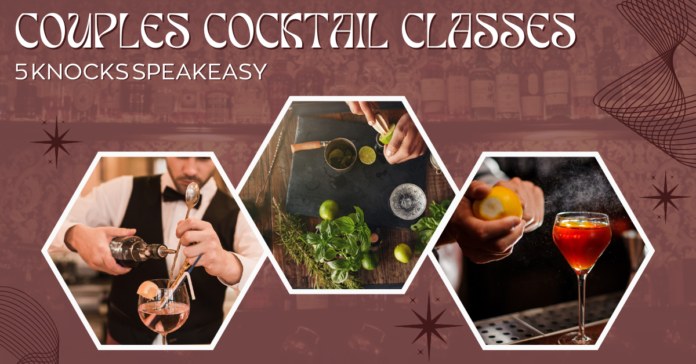 Is date night coming up around the corner? 5 Knocks Speakeasy has you covered with a new couples cocktail class.
If you've always wanted to try your hand as a bartender, you're in luck. 5 Knocks Speakeasy, located in the basement of the historic LaSalle hotel, is hosting a couples class where patrons can try their hand at creating an old-fashioned cocktail. The class is on Dec. 30, so participants can wow their family and friends with a new drink in time for 2022's kick off.
Joseph Phillips, General Manager at the prohibition-era-themed bar, states that this class will teach participants all of the theory, method, and technique that makes a good bartender, so you can cross off your new year's resolution to pick up a few bartending skills a day early!
During this two-hour course, patrons will have the chance to taste four different pours of spirits and choose one to create an eggnog-flavored cocktail that will genuinely keep the holiday spirit alive. The arrival time for the class is at 5:30 p.m., giving participants a chance to settle in before the official start time at 6 p.m., which Phillips says will begin with an "in-depth talk about liquor and techniques."
The $50 fee for the class includes "hors d'oeuvre, the pours of liquor, and gift bags," says Phillips, so participants will leave with more than just the ability to make a new favorite drink. Phillips adds that this course is for anybody who has come into the bar and attempted to make the drinks at home.
5 Knocks Speakeasy allows patrons to escape from everyday life as they enter this century-old inspired bar. Aside from their cocktail class, the speakeasy boasts a piano bar, has an extensive drink menu featuring nearly 100 cocktails to choose from with the addition of various beers and wines and is available for private parties.