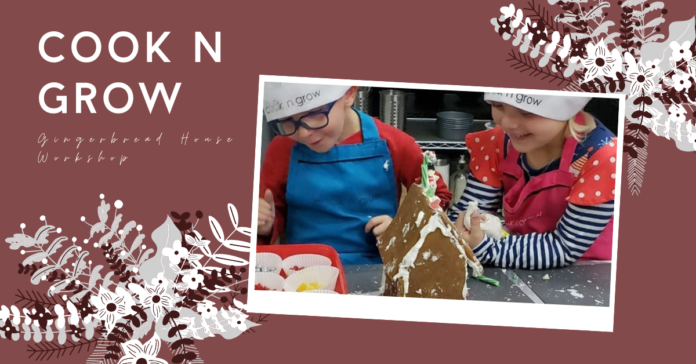 As the holidays draw nearer, baked goods seem to taste even better than usual. And you don't need to be a master baker to have fun at Cook N Grow's Gingerbread House Workshop! This delicious workshop for kids will be taking place on Saturday, Dec. 19 from 10 a.m. to noon.
The Gingerbread House Workshop is a one-time event for kids aged 5 to 11, designed to let them express themselves in the kitchen via a yummy holiday favorite: gingerbread! Kids will have fun frosting and decorating the morning away in a creative space that also gets them comfortable with being in and around the kitchen.
Cook N Grow has made several modifications to their in-person classes to comply with COVID-19 protocols. In addition to mandatory mask wearing and limited class sizes, social distancing will be enforced both during pickup and drop off and during the class itself. Students will be separated by sneeze guards at each individual workstation, and they will not be sharing any equipment or food during the class. Hand washing, hand sanitizing, and surface disinfecting will all take place frequently throughout the day, and students will have their temperature taken before entering class. For more information about Cook N Grow's response to COVID-19, check out their response page.
Cook N Grow's Gingerbread House Workshop is happening on Saturday, Dec. 19 at the Cook N Grow building on Harvey Mitchell. The event will run from 10-12, and parents can register their children online. Registration is $50, and the first Gingerbread House Workshop on Dec. 18 has already filled, so sign up ASAP!