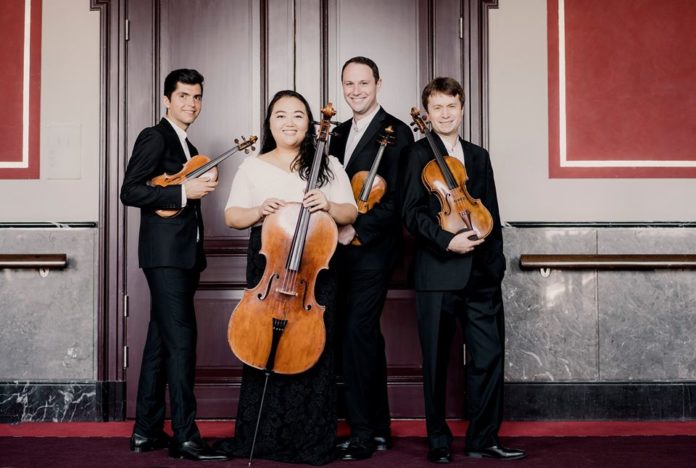 If you love classical music and want to experience it in a venue that is known for its stellar acoustic capabilities, look no farther than the Concerts on Carter Creek series. On Tuesday, Feb. 25 at 7 p.m., the series, in conjunction with the Friends of Chamber Music, will be bringing you an award-winning and internationally performing classical quartet at Bryan's First Presbyterian Church.
The Calidore String Quartet, which is composed of violinists Jeffrey Myers and Ryan Meehan, violist Jeremy Berry, and cellist Estelle Choi, is considered one of the premier classical quartets in the world. Indeed, it is no wonder why when you see them in person. The group performs beautiful ensembles both of its own creation and those authored by some of the world's greatest composers, such as Beethoven and Mendelssohn. This year marks the 250th anniversary of Beethoven's birth and the tenth anniversary of the Quartet, so this concert will feature some of Bethoven's string quartets. The Quartet is able to captivate audiences and take them on an incredible rollercoaster of emotions. From angst and anticipation to calm and soothing melodies, the group projects it all incredibly well, and First Presbyterian is the perfect setting.
The Quartet has received lavish praise from The New York Times, the Los Angeles Times, and The Washington Post. The group has won countless awards and grants and has been invited to perform in some of the world's most exclusive classic music venues, including Carnegie Hall, Wigmore Hall, Kumho Art Hall in Seoul and the Lincoln Center. The group plans to play in shows across the United States and Europe.
Concerts on Carter Creek was founded in 1983 by members of the First Presbyterian Church who wished to offer a music ministry to the community. The concert is free and open to all members of the community. Childcare will also be provided by the church.
For more information, please visit http://bit.ly/2Si0N1u.