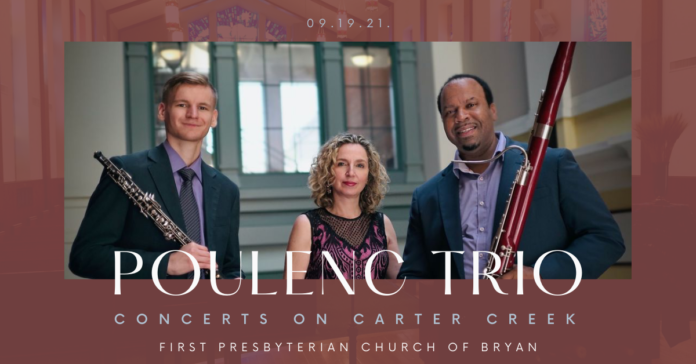 You might be surprised to hear what an oboe, a bassoon and a piano can accomplish together, making the Poulenc Trio's upcoming concert something special. Don't miss this performance from the most active touring piano-wind chamber music ensemble in the world as they create a three-person symphony full of harmonizing, soul-touching melodies. On Sunday, September 19, Concerts on Carter Creek welcomes you to a free concert featuring this stunning trio at First Presbyterian Church of Bryan at 5 p.m.
Focusing on new works from contemporary composers, Irina Kaplan Lande, piano, Alexander Vvedenskiy, oboe, and Bryan Young, bassoon, unite so skillfully that more than 20 new works have been written or arranged for the group, better popularizing the music available for this combination of instruments. Their playing is known for its fresh witty tone with hints of sentimentality. The Trio is also known for their emphasis on learning, and all three members are educators with over 20 years of teaching experience. Most of their performances contain some element of "outreach," from discussions to lessons for just about every age and skill level.
With all their musical magic, it's no wonder that in their eight year journey, the Poulenc Trio has become so sought after. The trio has performed in 45 states and international music festivals, making their stop in Bryan a unique opportunity to appreciate this highly praised ensemble live!