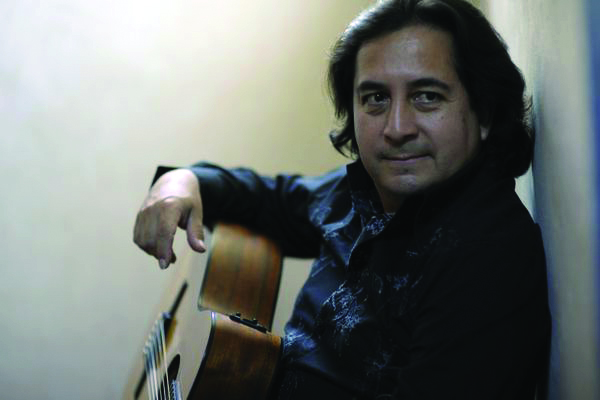 These days, most of us experience live music at places like bars, clubs, or even outdoor venues and festivals. Many of the bands performing at these types of shows have talent in their own right, but there's always something special about seeing classically trained, professional musicians perform in venues where the architecture enhances the music. This is something First Presbyterian Church in Bryan, with their acoustically superb sanctuary, has not missed, and they are beginning their 37th annual Concerts on the Creek this Sunday evening by hosting Javier Chaparro and his band Salúd.

A Peruvian native, Javier Chaparro, who currently holds the title of Concert Master for the Brazos Valley Symphony, writes and performs all of his own music. His romantic style of songwriting takes traditional Latin American music and instrumentation and fuses it with jazz. Though his post with the Brazos Valley Symphony Orchestra already tells you that he is a virtuoso, his accolades go far beyond. According to his website, his music has been featured in "film and documentary soundtracks including 'The Alamo,' 'Spy Kids,' IMAX's 'Ride Around The World,' 'Loaves and Fishes,' and PBS's 'Hansel Meith.'"

Joining Chaparro is the four member band, Salúd, composed of Mitch Watkins on vocals and guitar, Paul Glasse on mandolin, Laura Mordecai on vocals and Latin percussion, and John Fremgen on bass. Joining together with Chaparro, the group makes uplifting and joyful music you won't want to miss!

First Presbyterian Church established Concerts on the Creek all the way back in 1983 when Dr. Robert Leslie, the pastor at the time and a classically trained musician, discovered that others in his congregation were equally talented. Combining the beauty of the sanctuary with its clean lines and the building's superb acoustics, it's no surprise the event caught on and has been continuing annually every fall these 37 years.
If you're interested in checking out some professional, virtuosic musicians ply their craft, this free concert takes place Sunday, October 13, and the performance begins at 5:00 p.m. You can find out more about this event or any upcoming Concerts on the Creek right here: http://bit.ly/2oakOLl