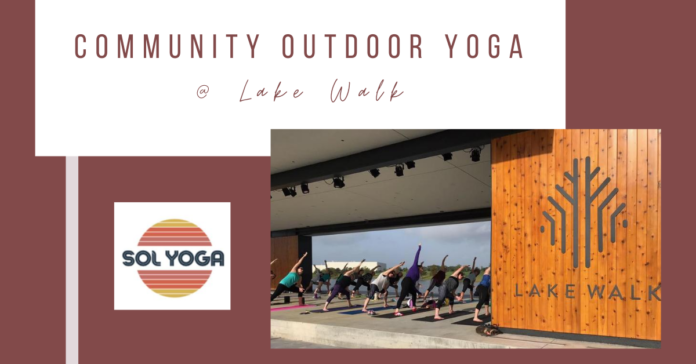 If you'd like to kick off your Saturday morning with a fun, interactive fitness class, then roll out your yoga mat! Community Outdoor Yoga has returned to Lake Walk Town Center for the first time since the pandemic. Hosted by SolYoga, the event invites you to bring family and friends to get your weekend sweat in. The event will be held at 8 a.m. on Saturdays at the Lake Walk Pavilion. The class is free and open to the public.
Ashley Jaskula, Marketing and Events Coordinator at Lake Walk, says the inspiration behind the event is to provide attendees with the opportunity to experience the relaxation and benefits of yoga in a comfortable and approachable manner. "Whether you've been practicing yoga for many years or have always been curious to try it out, Community Yoga is for everyone of all ages and skill levels," Jaskula says. "It's really an opportunity for the public to warm up their body and mind in a serene, outdoor setting." Each class is taught by Susannah McNutt, Sol Yoga instructor, who also teaches a class for athletes at Crossfit Aggieland in College Station.
Jaskula says social distancing will be easier for attendees to practice with the event being held outdoors on the lawn. "This allows us to be able to still accommodate guests while spacing individuals out," Jaskula added. "Community Yoga is held at the Lake Walk Pavilion and on the adjacent lawn, so there is plenty of room for all participants to maintain their distance from others while still enjoying the benefits of the class."
Jaskula also added that no pre-registration is required to attend the event and that attendees are encouraged to bring their own yoga mat and water bottles. "We are asking all guests to respectfully practice social distancing during class as well as bring their own essentials," Jaskula says.
For more information about Community Yoga, as well as class updates, visit their Facebook page.
Sources:
Ashley Jaskula, Marketing & Events Coordinator, ajaskula@lakewalktx.com