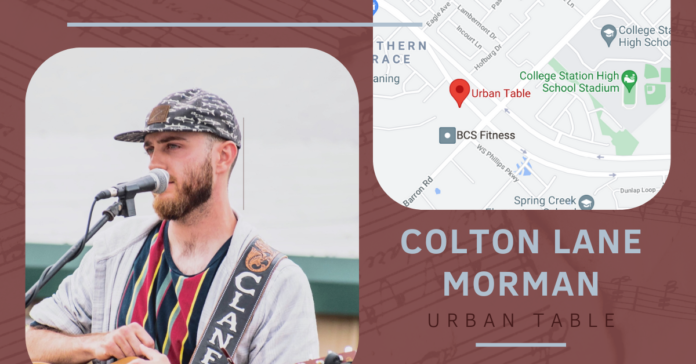 Out of the many things that BCS does best, country music is certainly atop that list. But if you add a summer night into the mix along with that good ol' Texas style country music, now you're talking about one awesome night out. Catch Colton Lane Morman live at Urban Table on Thursday, June 3 from 6-9 p.m. to make this come true!
Morman, a Texas native, first wowed audiences when he sang Presley's "Can't Help Falling in Love" to the guard at the gate of Graceland at 2 years old. Starting his first band at 15, Morman has been working non stop in support of his music ever since, making his live debut at 16 and dropping his first full-length album "Better Than You" in the spring of 2018. The 12 track album includes songs such as "Proud" and "Runner" that showcase Morman's warm voice through lyrics of nostalgia, love, regret, and more.
Whether he is out in Fairfield or Navasota, Morman has been on the road ever since the release of his first album and has been making his music heard in the heart of the Texas country scene. But even though Morman has been charming cities across Texas with his authenticity and passion for real songwriting, he's no stranger to the College Station area as this proud Texas A&M graduate has played in numerous venues throughout BCS.
The concert will be held at Urban Table, one of BCS' most unique restaurants. Urban Table is divided into two floors to accommodate everyone. The top floor, dedicated to a bar space with an impressive wine selection and an outside balcony seating area, caters to those who want to socialize, and the bottom floor with the main restaurant, serves families well with its spacious contemporary layout and back patio. The beautiful interior is full of modern and industrial features that create a lively but intimate space.
If you're interested in catching Colton Lane Morman play some authentic country music at Urban Table, all you have to do is show up in good spirits and your favorite country attire-the tickets are free! You can also stream Morman's music through Spotify. Get out of the house for a night full of good food, good people, and even better music!
Sources: 
Urban Table – New American Kitchen – College Station Restaurant
Colton Lane Morman LIVE @ Urban Table, Urban Table TX, College Station, 3 June 2021