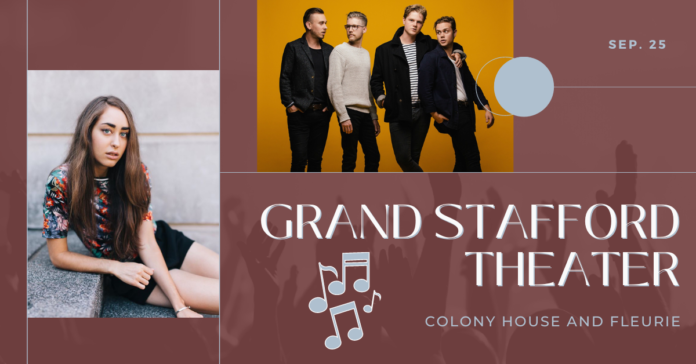 Looking for a chance to satisfy that more contemporary side of your music taste? Or maybe you're just looking for a fun night listening to some great music? Well then, you'll be pleased to know that Colony House is rolling their way through the Brazos Valley on their "Back Before You Know It Tour," and will be stopping by at the Grand Stafford Theater to bring good music and good times with special guest Fleurie on Saturday, Sep. 25, starting at 7 p.m.
Colony House is an indie rock quartet out of Franklin, Tennessee. They're the epitome of what makes indie rock such an enjoyable genre of music. Their fun, upbeat and catchy tunes will make it hard for anyone not to dance or at least bob their head. They've released three studio albums, their debut album titled "When I Was Younger," released in 2014, climbed up to number 154 on Billboard's top 200, and it also made its way up to number three on Billboard's Heatseekers Albums Chart, which tracks new and exciting artists every week. Since their debut album, they've released "Only the Lonely" in 2017 and "Leave What's Lost Behind" in 2020. You can find these as well as their new EP, "Rotten Tomatoes," on all major streaming platforms and also on their website along with more touring dates and merchandise.
Fleurie is a singer-songwriter originally from Detroit, but she's embedded herself into the Nashville music scene. Her music is a potent mixture that lands between contemporary folk and electronic pop. Her angelic but also powerful voice brings a wealth of emotion to her music, and fans will be hard pressed not to hear something that they'll truly enjoy. You can find her three EPs as well as her newest single, "a million pretty pieces," on all streaming platforms as well as check out more touring dates on her website.
Doors open at 7 p.m. to all ages, and the music starts at 8 p.m. General admission is $20 online, and will be $25 at the door.
The Grand Stafford theater is more than a simple music venue, their focus on cutting edge sound and lighting technology sets them apart from others. They also have a great selection of craft beers, wines, spirits, and more than 48 cocktails, making it one of the best concert experiences around for both the audience and the artist.